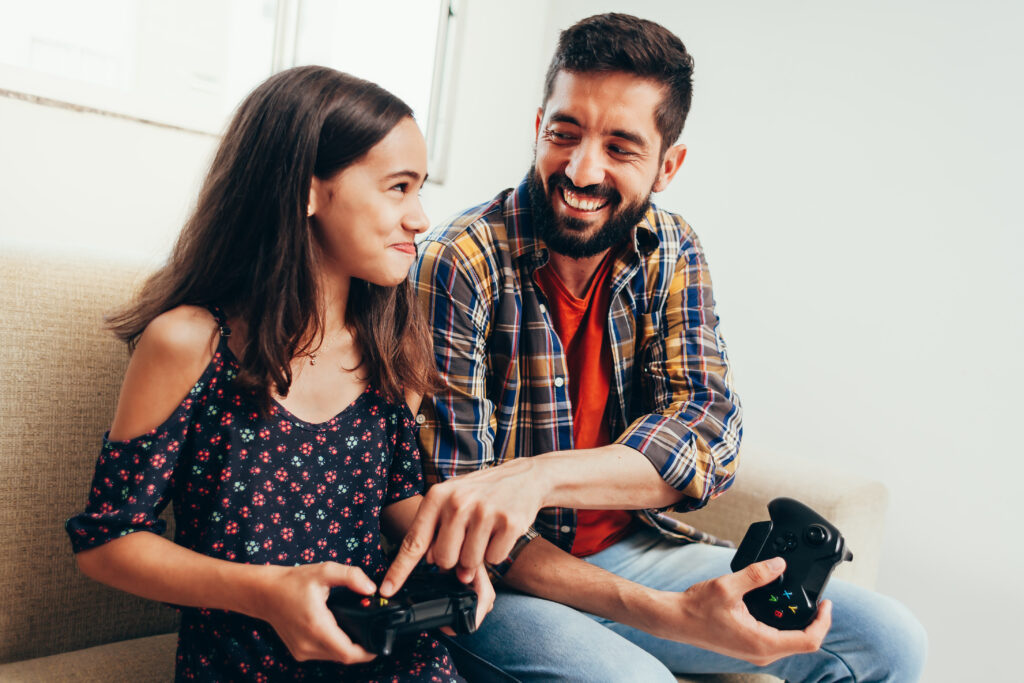 It is commonly depicted in movies and television shows.
There is a teenage kid playing a computer game, only for one of their parents to walk in, turn the game off, and then have a debate.
It may seem like something of a modern problem. But it isn't. Children and parents have always found things to disagree about. It just happens to be the case that most parents now feel that they have to contend with computer games.
Many parents may agree with the actions of the parent in the aforementioned example. They may agree that turning the game off will allow their child to spend more time with the family without any distractions. But is that always the best way to approach such things? It is likely to, if anything, cause resentment.
In fact, a study performed by Arizona State University agrees. Children may actually benefit from playing video games. Before you throw in the towel, the study also found that it is beneficial for parents to play too. This leads to an interesting idea; can computer games bring families together?
If you are a dad who is fond of playing computer games, this idea may appeal to you intensely. So, how can dads use computer games to bond with their kids? And what advantages does playing computer games together provide?
Games are fun
There is no way around it. Computer games are fun to play.
As a dad, you will want to check the age limit and material on any games that you want to play with your child.
If you are new to the world of gaming, you may want to spend a fortune to ensure that you and your kid get the most out of this time. But expense isn't necessary in most cases. A laptop for gaming is fine. Just be sure that you get a game that is fun and not overly educational, as children rarely respond well to such things!
Games are fun, so you and your kids will have fun. It will be something to look back on and smile about. Hence it will go a long way towards building and securing a bond.
This will also help you and your children to destress. It can be easy to forget that children suffer from stress too, especially when you are an adult. By helping your child to de-stress with a computer game, they will build a rapport with you. Destressing and fun equate to a stronger relationship with your child.
Problem–solving
This is an advantage of playing computer games with your child, especially ones that are educational. So, be careful of the games you choose to play with your child.
Consider how most computer games are designed. There is an objective. Your child needs to reach the end of the level without getting caught, and so, in order to do so, they will need to problem-solve. It may not seem that these skills equate to real life, but they do. They help to keep your child's mind nimble and sharp. Remember, most people know the link between chess, strategy, and intelligence. This is, in essence, the same thing, just on a computer with a more immersive artificial environment.
Social engagement
Most parents will have read one article that preaches about how unsocial kids are today.
And most people blame this on the rise in technology use. Once again, there is a media image of children who play computer games being closed off, not engaging, and sitting alone in a dark room for hours on end.
Most games that are multiplayer have a bar in which your child can talk to others. Just be sure that you monitor this, as sometimes there may be people in the games who are not supposed to be there. But social engagement with gaming extends beyond being just you and your child. They can forge friendships via computer games.
And not only through the games themselves. If you take them to gaming conventions, they may meet other kids there, and they will already have something in common. As you know, this is a great way to make friends.
Positive feedback
It is easy to demonize computer games as being violent or overly distracting. But as mentioned before, this depends on the game being played.
When you engage in gaming with your child, there will be a positive feedback element to it. Playing the game and completing the task results in positive feedback, which you can also give to your child when you play with them.
This goes one step further with gaming. They are rewarded with no real-world consequences if they fail. Consider standard daily life for a child. If they do badly at school, they may be punished. If they don't complete a task at home, they may be punished. Dying in a game may seem dramatic, but it allows them to adapt and learn without being punished in any real way. Once again, this can build their confidence.
Team bonding
Are you a dad of a large family? Why not get multiplayer games? That way, your children can play against each other while you meditate and offer praise.
This can be a great way for kids to bond with each other while also encouraging team-building skills. Just be prepared for the inevitable arguments that may break out due to alleged cheating!
Final thoughts
Engaging with computer games is a great way for you to bond with your child or children.
Just be aware that overindulgence is never a good thing. Be sure to monitor how long you and your child game for, as well as ensure that you engage in other activities away from home.
Remember, gaming is not a substitute for real-world activities, but it can be used to enhance skills and build social bonds within the confines of your home. And, it can be a great way for you to bond with your children, providing that you don't cheat, of course.