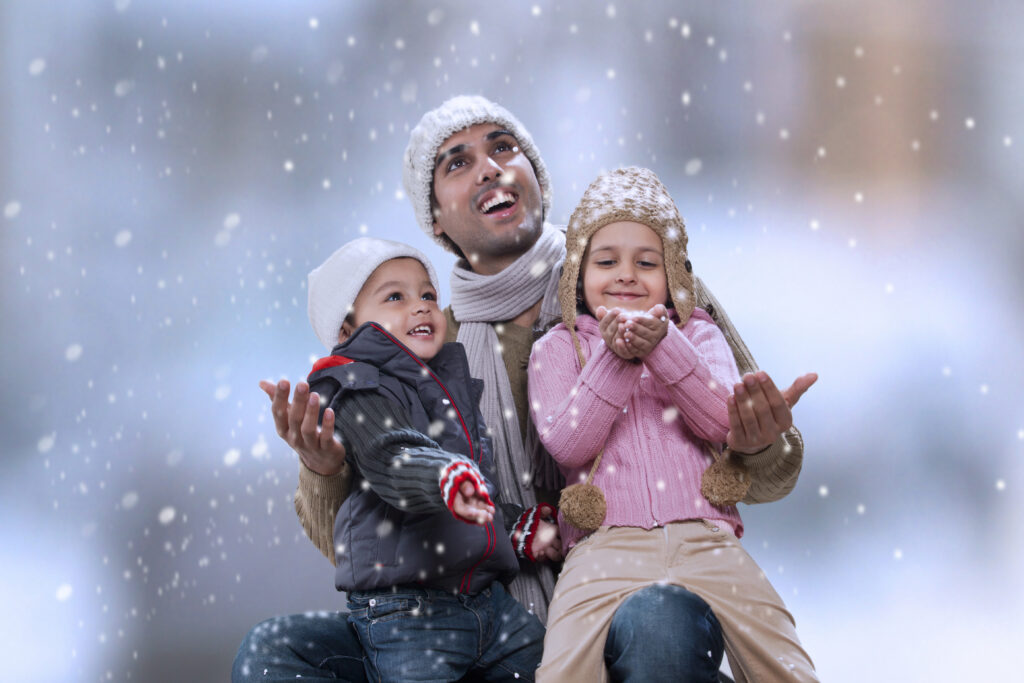 There are plenty of ways for dads to bond with their kids in the warmer weather, but what about during the winter? When a summer of fun comes to a close, you might think that winter is going to be dull in comparison. Luckily, this doesn't have to be the case. In fact, in some ways, winter can be even more exciting than summer!
If you want to ensure you spend enough quality time with the kids this winter season, consider doing some of these eleven activities that both you and your little ones will enjoy.
1: Build a Snowman
It's a typical winter activity, but it is always good fun. Building a snowman might make your fingers cold after a while, but it gives you and your kid a bonding activity that involves a little work (and plenty of time outdoors). So, once the snow hits, put on your hat and gloves and get outdoors to build the best snowman ever.
Remember, though, that snow on your drive is more of a danger than anything else, as you need to be able to get your car out. If you have a build-up of snow over the winter, invest in quality snow blowers for the front drive and keep the fun in the backyard.
2: Go Ice Fishing
Fishing is one of the most common ways for dads to bond with their kids, and it's popular for a reason! It teaches patience, problem-solving, and focus—great lessons for any kid to learn. That's not to mention the amazing sense of accomplishment that comes with catching a fish! Fortunately, you don't have to wait for the summer to go fishing, as ice fishing is just as enjoyable. You'll need some different equipment, though, such as an ice auger and, of course, warm clothes.
3: Watch a Hockey Game
Hockey is a great sport to enjoy in the winter, as it emulates the outdoors with its icy ground, so why not take a trip out with your kids to enjoy this heart-pumping sport? Once the game is over, you can then go for some food while going over all the exciting moments you just witnessed. You never know, it might inspire your kid to take up the sport themselves!
4: Go Ice Skating
If you want to take part in a sport during winter, why not go ice skating? It's a great activity to do over the holiday season especially, as many ice rinks decorate for Christmas and it instantly puts you into that festive spirit. You might not be as steady as you remember, but it'll give your kids a fun memory that will last forever.
5: Rent a Cabin for the Weekend
You might not be able to enjoy a sand-filled vacation in the heat without traveling far away, but that doesn't mean you and your kids can't bond during a getaway. One of the perfect ways to enjoy a winter trip is by visiting a cabin for the weekend. Try to find one that has a fireplace, as you'll be able to enjoy the cozy warmth while hiding from the outside cold.
6: Bake Cookies
Baking is a simple life skill, so get your kids started early this winter by baking some delicious cookies in your home, away from the freezing temperatures. Not only does it teach your kids life lessons, but it also leaves you with a delicious treat to enjoy at the end of it! Plus, the baking will quickly warm your kitchen up. If it's Halloween or Christmas, be sure to bake some seasonal cookies. 
7: Crisp Winter Morning Walks
The activities don't have to involve trekking far or spending too much money, as a crisp winter-morning walk is enough to enjoy the fresh air while bonding with your kids. Winter mornings are a special time of day; from the frosty grass to the clear, blue sky, you feel like you are truly at one with nature.
8: Have a Snowball Fight
Silly fun is often the best type of fun to have, especially with your little ones, so the next time the snow hits, yell "SNOW FIGHT" and start rolling up those snowballs. Just make sure everyone is properly dressed for the cold, as there's nothing worse than picking up snow over and over again with your bare hands!
9: Holiday Season Shopping
You have to get the holiday season shopping out of the way anyway, so why not make it a time to bond with your kids? Plan a full day to hit the mall and browse for gifts, as you'll likely spend more time in each store than you anticipate, especially with all the cool decorations that are going to be around. Let your kids pick little gifts out for other family members, as they'll feel extra-special when giving them to their loved ones.
10: Visit Santa
If your family celebrates Christmas, visiting Santa is one of the best activities to do with your kid—they will love you forever! You can combine this part with the holiday shopping, as many Santas set up inside the mall. Let your little one sit on Santa's knee and tell him all the presents they want this year, and they will likely not stop going on about it for days to come. The joys of being a parent!
11: Go Sledding
Another excellent winter activity that allows you to take advantage of the snow is sledding. In every neighborhood there are at least a few great hills for this activity, so follow the crowd to find a slope and sled down the snow with your kids in the front. It won't just be them who have the best time; after the first go, you'll be asking for another ride! Just be sure to whip up some hot chocolate once you return home, as you'll all be frozen from the cold.
Dads have plenty of options when it comes to fun with the kids this winter, so choose some of these great eleven activities and create winter memories you'll all remember forever.