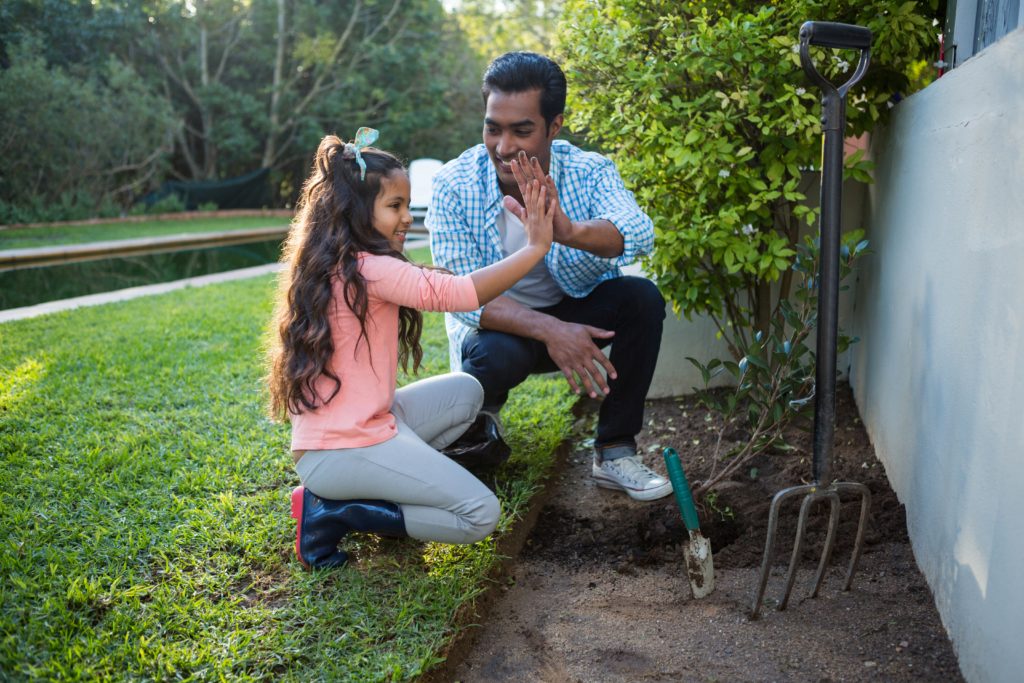 As a dad, you may be the one everyone turns to when it comes to maintenance around the house. While moms are also great at these things, dads are often the popular choice for DIY. This also applies to designing the backyard or garden as it can require a large amount of constructing, digging, and assembling. If this sounds familiar and you're in the process of designing your garden to accommodate your kids, the ideas below can help.
1. Establish Kid-Friendly Zones
Before you set about designing the garden with your kids in mind, it's important to do some planning first. While making your space a green haven for your children is the priority here; you'll also want to consider things like safety and where to allocate adult spaces.
For example, it's sensible to map out areas of the garden — perhaps in concentric circles away from the house — and decide how each region will be used. You may decide that the front of the garden is where your youngest will play since it is closest to the house and safer in terms of monitoring. If you have a large space and older children, you could then create zones further away to play in. Whatever you decide, creating zones is a great way to plan for safety and priority.
2. Stay Natural
When thinking about accommodating kids, it may be tempting to add many artificial elements to your garden. However, one idea is to stay as natural as possible and use tree stumps and large stones to create props and décor. Kids are wildly creative and will have just as much fun playing around natural materials in the garden as they would if you built an entire playground.
3. Make it Fun
This seems like an obvious point but making the garden fun is key for accommodating children. While trees, bushes, and grass can provide an opportunity for fun on their own, you may want to consider building elements that encourage adventure, too. When it comes to the fun, the range of possibilities is endless and can include everything from giving them their own garden space to grow plants or vegetables to building a small pool. Before you start designing, assess your kids' age and personality so that you can plan ways to make the garden as fun as possible.
4. Lay Grass or AstroTurf
Most gardens contain an abundance of grass, but it's surprising how many of them don't. If you are in the early stages of growing and designing your garden space, make sure you lay some grass for your kids to tumble around. If you're concerned about mess, you could even experiment with laying AstroTurf instead. While nothing beats the feel of natural grass, AstroTurf can mean less dirt, especially if you also have pets wandering around!
5. Add a Child Swing
If you're looking for actual elements to add to the garden space, a child's swing makes a great addition. Not only does it provide a fun activity for your kids, but it is also easy to set up and install. Swings are also great for growing families as they suit children of all ages — even babies!
6. Build Climbing Structures
Assuming you have the space, climbing apparatuses are another great feature for adventurous little tykes. If you are good at carpentry or DIY, you could build a custom one for yourself. Otherwise, there are plenty of climbing frame options on the market. Before adding your climbing apparatus, it's worth planning ahead and figuring out how it will be used. For example, adding a roof on the frame could turn it into a tree-house-like structure, meaning that your kids can spend hours in there, even on rainy days.
7. Add a Trampoline
Trampolines provide enormous amounts of fun for both kids and adults alike. If you have the space, adding a trampoline is a fantastic way to keep your kids and visitors entertained. If space is limited, you could also opt for a sunken trampoline instead. These are built into the ground and take up less space. But best of all, they mean there's no risk of your kids falling off of it!
8. Install a Pool or Hot Tub
In the summer months, nothing beats having an outdoor pool in your backyard. Whether it's a portable one that you fill up with the garden hose or one you've installed into the ground, water is a brilliant way to keep kids entertained for hours. If you have the space, you could also add a hot tub into the mix so that your kids can be in the water during the evening or in the colder months. And, if you're concerned about maintenance, sites like aquaspasupplies.co.uk provide an excellent choice of pool and hot tub supplies.
9. Create a Quiet Playtime Space
Another great feature to add to a garden is a quiet playtime space. This can be a corner of the garden, such as a small, covered decking area. Not only does this provide shade in the hot summer months, but it means your kids can have snacks, lounge about, have tea parties, or just sit and read a book. To make the space as cozy as possible, you could add climbing plants and sun umbrellas.
10. Choose Child-Friendly Plants
If you're an avid gardener and you want to encourage your kids to learn more about plants, you may want to populate it with child-friendly ones. Avoid toxic ones which can cause irritation and encourage their sense of wonder by adding flowers, or even vegetables such as tomatoes and strawberries. Plants and flowers on the safe list include fuchsias, begonias, sunflowers, clematis, and lemon balm.
11. Entice Wildlife
Another fantastic way to make a garden fun for kids is to entice wildlife. Adding bird feeders is a great start, as is creating an insect hotel that acts as a haven for bees, butterflies, and ladybugs. Watching birds and learning about insects can be a great way to entertain your kids while you're enjoying some sun in the garden.