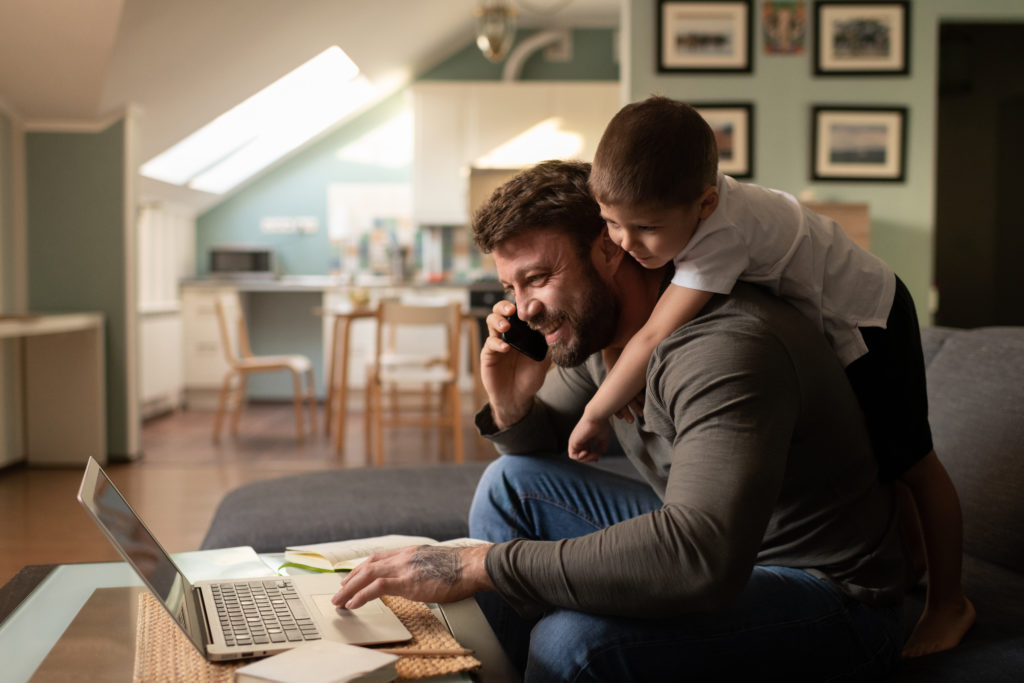 Conflict, stress, and spending more time than usual together can create new disagreements or aggravate past issues. If you feel yourself getting irritated or annoyed with your family and children, don't be too hard on yourself. This is a challenging time for everyone. Here are some avenues to help keep the worst of COVID quarantine blues in check: 
Acknowledge what's going on
In 2020, we are all experiencing something brand new. It's easy to acknowledge the financial pressures or the health worries. However, it is harder for many people to say, "This time together might be really hard on our family." If you know as a dad that this will be a challenge for you, your partner and your kids, it's easier to imagine what you're going to do about it.
Think with the end in mind. When a cure or end comes, how do you want your family to remember this time? Was it a time that you all came together and made the best of it? Or were you all constantly frustrated being stuck in the house in the most irritating scenarios from "Groundhog Day."
Set boundaries
It's important to set up new expectations and guidelines that correspond to the constantly evolving situations that we are facing.
You can discuss routines, chores, work, and learning and how you can all share the spaces in your home to make this time as easy as possible.
Plan some family time
Does this sound familiar? Your child is in Zoom classes all day. When you see them at lunch or a the end of the day, you immediately remember to ask them to take out the trash. Rolled eyes, or worse, ensues.
Pro tip: don't make your time confined together as a family solely about chores to get done and rules to follow.
It's important to plan some conscious time together where you can all enjoy each other and have fun. There's a reason there has been a run on puzzles and board games. Families especially, need to find ways to distract themselves. It's easy for each person to escape into their own world, but far better for your family if you can frequently find things that everyone can have fun doing together.
If you are dealing with too much work and stress, it's also useful to plan some activities for your kids to enjoy by themselves to keep them occupied. We found this fun list of indoor activity ideas to give you a start
Plan some time alone.
With your family confined under one roof, your previous outlets for personal time are probably gone. Make it a point to schedule some time for yourself, even if it's just time alone with headphones, in a different room. Some obvious ideas are taking a walk alone, reading a book, or watching TV but don't overdo it on these escapist tactics. If you've never tried it, we recommend downloading one of the many meditation apps. With apps like Calm and the free Simply Being, you can take a mini-vacation from constantly reacting to what life is throwing at you. It may sound silly but it works.
Notice what's going well
Living in close quarters, it's easy to fall into a pattern of only noticing what is going wrong. Constant nagging and criticism as the only interaction between you and your child can lead to resentment and resistance to helping out.
While your annoyances won't disappear overnight, praising your kids appropriately and letting them know that you appreciate their efforts is essential. This helps to foster more positive behavior and ultimately enriches your relationship.
Remember that you are not alone
Connect with other families who are experiencing the same things you are. Exchange tips for keeping your kids occupied and engaged. You can also organize a virtual activity or study group, which helps to provide social interaction for your child. Collaborating and discussing your frustrations with others will help with feelings of isolation and loneliness.
Although the present situation can create unnecessary conflict, it also has the possibility of bringing your family together. Figuring out what works for you can ensure that your family comes out of quarantine stronger than ever. Whenever that may be, or if you have the chance to get away right now, you deserve a vacation and a change of pace.