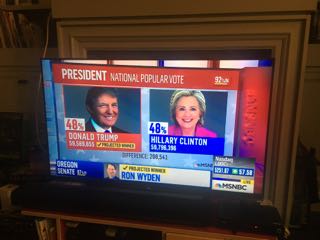 Today is the anniversary of Kristallnacht (1938), the night most people agree was the beginning of the Holocaust. It would be offensive to compare last night's election results to this birthing of evil 78 years ago, yet many people felt something ominous did occur last night. The reaction was beyond the disbelief that many felt when Nixon was re-elected or when GW Bush first beat Al Gore. This reaction was more akin to what we all felt on 9/11. There was a "this can't be happening" feeling. It felt as if we were watching a dream, a very bad dream. And worse, a dream that will become far, far worse before we are awakened.
If you have kids, it may have been difficult to hide your reaction. I know I was more irritable than usual and had to apologize to both kids and spouse for snapping a few times. Everyone was edgy though. We all couldn't sit still, moving from seat to standing over and over, with some vague idea that changing perspective might actually change history in the making. There were no tears but we all felt sick. I had to put away my wine glass. It would have just been too easy to keep on drinking without even thinking.
Late in the evening, as the final states closed, my 12 year-old son left the room and I saw that he was crying. I apologized to him and told him that it was probably unfair of us to make the situation seem so dire. He replied, "Dad, it's not you. I read the articles." He was worried about a possible war and an economic crash to rival 2008.
So, this is the problem with raising kids who read and watch the news. You want them to be involved and interested early on, and yet too much knowledge can be a painful thing. How do you talk to kids about Donald Trump and the election?
So, here's what I'm reiterating to my kids this week as we talk about the future of the United States.
First, one election is not an existential event. We know a lot about Donald Trump, but we don't know how he'll govern. We can be sure of a  few things that will not be fun for anyone concerned (the end to Obamacare, relaxation of environmental regulations, a continued war against women's reproductive freedom among many), but we just don't know what really happens after January 20.
Second, we have to believe, as Theodore Parker wrote and Martin Luther King Jr. paraphrased, that "the arc of the moral universe is long, but it bends toward justice." There is no other way. I need my kids, especially now, to believe that we will pick ourselves up, dust ourselves off, and get back on track to a better world. I may have to keep repeating that to myself as well, so it's motivating to say it to the kids.
Third, kids do understand the battle between good and evil. From an early age, we read them horrible stories filled with metaphors about the very struggles they see played out on the evening news. It is not a bad thing for them to try to understand what is really evil and what is disagreement. While the world on the Internet seems to be black and white, I want our kids to see all these issues in terms of grey. The world they will inhabit will demand people who are more critical in their thinking powers and who leave the quick tweets and snarky one-liners to others. I want them to understand why some Trump voters voted the way they did despite what they heard about their candidate. I'd love to easily shelf them in that famous basket of deplorables, but not all these people are bigoted and small-minded. I have to believe that because I come from small town America where a lot of Trump's votes came from. Their concerns and fears are a reaction to the pace of change we haven't seen since the advent of the industrial age.
A lot of parents are concerned that young boys will hear vocabulary and attitudes about the treatment of minorities and women. We need to reiterate that this is not cool. Kids today learn societal norms in the form of "we don't do that in our school" or in our family. It is so important to establish norms of behavior and attitude within your family and community. It makes it easier to resist the temptation to act like others if your kids can say, "That's fine for them, but we don't act like that."  While we've enjoyed a president who has been a great role model for the past eight years, we shouldn't expect that all presidents, or sports stars or celebrities, will fill that role. It's important to talk to your kids about why they respect a president like Obama or another celebrity they admire. Trump doesn't have to be part of that role modeling for your kids. They may argue back to you that a president "should" model exemplary behavior, but that opens up a whole series of other discussions on the behavior of past "great" presidents who did wonderful things but who were also bigoted and misogynistic.
Fourth, we have to fight on. Every election like this creates an immediate depression. It's hard to look at your neighbors. It's hard to face the unknown of 2017. But by February, our passions will again be ignited and I have a feeling, for better or worse, that the counter-reaction will be strong. Give yourself a few weeks to grieve and then discuss with your family what you want to do about it together.
Finally, voting does matter. Take a look at this analysis of "voting trends from Wisconsin. where 243,000 fewer Democrats went to the polls in 2106 than in 2012 (Republicans were even). We've learned in election after election how mostly Republican legislators will make it difficult for good people to vote, just because voter suppression does work to control elections.
Now resolve to put on your game face before you see your family later today.  Tell your kids that things won't be as bad as you've made it out to be during this long campaign. The world will continue to turn and the fight continues. There is no spin to make this a positive moment, but can help us give our kids perspective on this eternal struggle between good and evil.