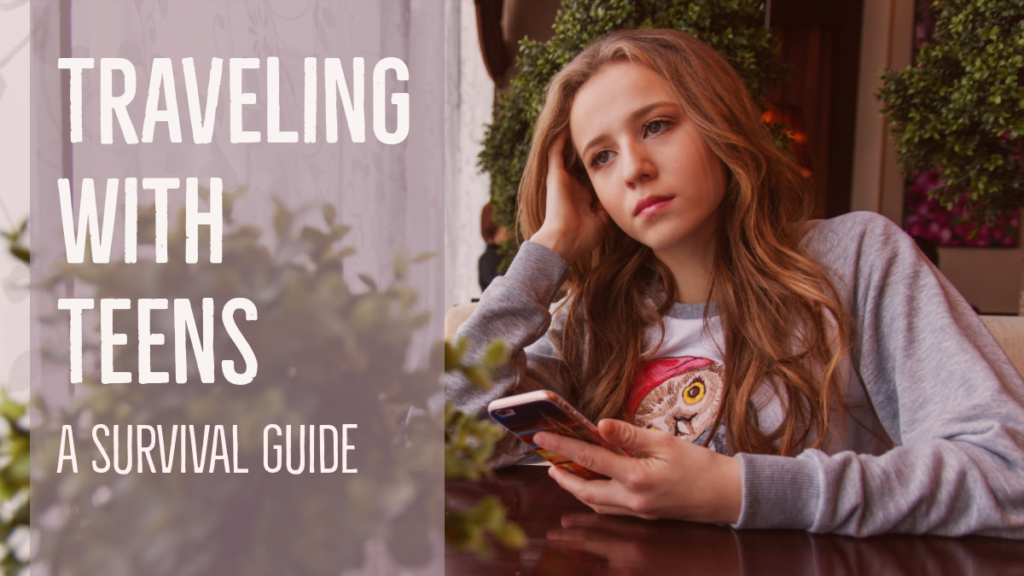 When you picture your next family vacation, you probably imagine one big happy family without a frown in sight. Perhaps you are strolling on the beach in matching white linen shirts, posing for your next Christmas card photo. Of course, this image rarely matches the reality, especially if you have a sullen teenager in tow. No matter how close your family is, traveling with teens is a challenge.
Even after your children grow from tantrum-throwing toddlers to tweens and teens, kids have a knack for finding something to complain about on family vacations. And no one complains like a teenager.
Before you go on your next family vacation, read up on these strategies for traveling with teens. They'll help ensure that your teenagers have a trip they'll actually enjoy and you'll have one that you can remember as a fond family memory.
Ask for your teen's travel opinions
One of the best ways to get your teenager excited about a trip is to involve them in the planning. When they feel like they've had their voice heard, they'll be more open to other ideas because they've put in their two cents as well. While you're in the planning stage of the trip, sit down as a family and have everyone share what kind of vacation they want. This simple step — listening to each person's thoughts — can help your family vacation get started on the right foot.
After you get your teen's opinions, be sure to actually put them to use. You might want to take that idyllic beach photo, but your teenager might rather explore an exciting new city. Try to think outside of the box and choose a destination that combines elements of what each person wants to do. You could choose to go to a city that has plenty of beautiful beaches but also bustling city streets.
Choose the right lodging
While you will hopefully spend much of your vacation outside of a hotel, you will still have to log a lot of hours in your hotel room. To save on expenses, you may be aiming for a hotel that falls under the average daily rate of $120, but keep in mind that skimping on the hotel, Airbnb, or vacation rental will affect the room's size, your location, and your comfort. If you choose a hotel that is far from the main attractions and activities, your teen can get easily frustrated with the isolation and long travel times.
When planning a vacation, choosing your lodging is perhaps the most important decision you will make after picking the destination. Travel review websites like Oyster can help you narrow down your hotel options, but take your time so you make the right decision.
Let them bring a friend
If you have room in your vacation budget to add another traveler, you may want to consider letting your teenager bring a friend on the trip. This might not be reasonable for an international family adventure, but if you're traveling within the United States, allowing your teen to invite a buddy will be well worth the extra costs.
With their friend beside them, your teen will have someone to talk to who isn't their parents or younger siblings. They'll feel more comfortable with someone who is their own age. After all, parents just don't understand memes. Allowing your teen to bring a friend will also give them a companion with whom they can do activities separately from the group. While they're using the buddy system at the arcade or beach, you can have some much-needed downtime or do an activity the kids wouldn't be interested in.
Plan for relaxation time
A packed schedule will only serve to exhaust your teenager and make them frustrated because they haven't had the downtime they're used to at home. They'll likely need a break from going to museums, attractions, and restaurants to just catch up with friends at home or watch a movie. Allow for some hang-out time and sleep-in days in your busy schedule. While they're chilling out in the hotel room, you can run some errands or check out some sites nearby that you want to see. A small break like this can go a long way in creating a pleasant vacation for everyone.
Let them be independent
Anyone who has a teenager knows that they don't like to be made to feel like a little kid. While a parent's protective tendencies tend to go into overdrive in an unfamiliar city or country, be careful of treating your teen like a toddler. You might know that sunburn can happen within the first 15 minutes of sun exposure, but your 15-year old won't appreciate you slathering sunscreen on them every time you walk outside. Give your teenager some breathing room and allow them to wander a little without you.
While you go to a museum, you could let your teen explore a local bookshop or cafe. You'll still be connected as long as you both have cell phones and they know how to get to the hotel in case of an emergency. By loosening the reins just a little, they'll feel like you trust them with independence and that independence could spark a sense of curiosity and adventure.
Discuss screen time before you leave
If your family has strict rules about screen time, then you need to decide whether you're taking a vacation from those rules as well. If your cellphone plan doesn't include data for national or international adventures, then your teenager may have no choice but to log off.
Neglect to have this conversation ahead of time, and your son or daughter may spend 90% of their vacation scrolling through Tik-Tok and Snapchat. Don't be afraid to set basic rules about technology use when traveling with teens.
Traveling with teenagers doesn't have to be stressful. If you truly listen to your teen's opinions throughout the process, rather than dragging them along on a pre-planned trip, you can have a memorable vacation that every family member had a hand in building. Just a little involvement and flexibility could give your teen a newfound love for travel that will last for the rest of their lives.