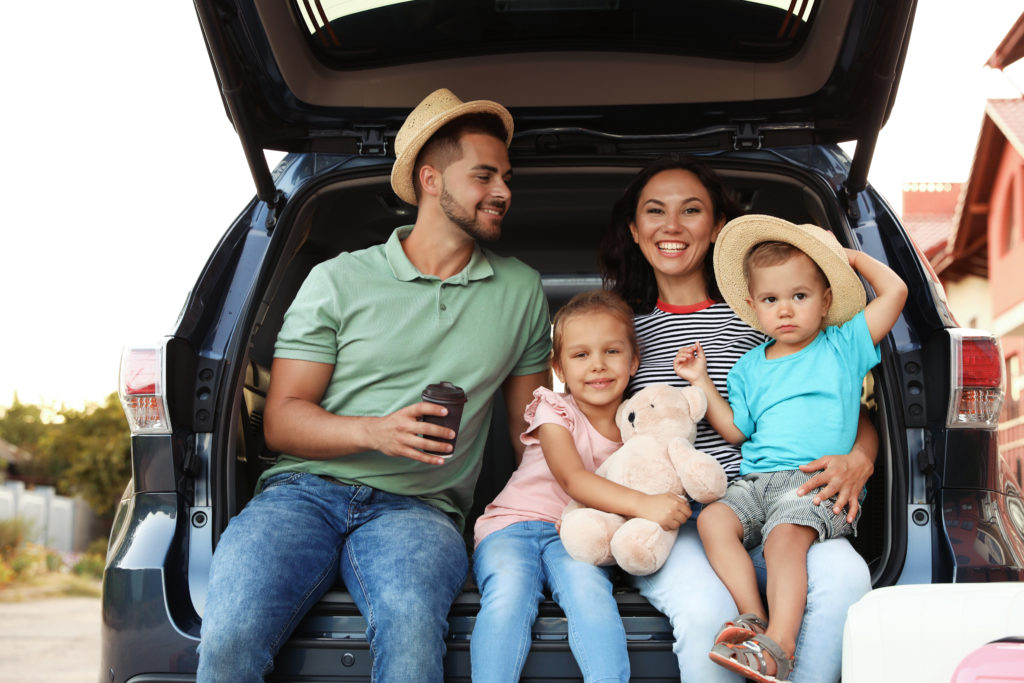 Taking your kids on vacation is usually a mixture of anticipation, fun, and stress. While they may be bouncing with excitement, you will most likely hold the fear of the inevitable plans going wrong. It's easy to become overwhelmed and let the stress of the kids running wild ruin your own relaxation time, but there are ways to make the experience enjoyable for the whole family. Read on for a guide on taking your kids on a fun-filled vacation.

Plan Everything
Planning everything means just that – absolutely everything. From the first item you pack to when you return home, you must know exactly what you are doing. Save spontaneity for the times between you and your partner!
Make plenty of lists, including what you need to pack. It's easy to fall into the trap of overpacking when you have kids, but do avoid this, as it will just add on more stress as you're digging through looking for their favorite toy.
Airport parking is also something that you need to organize beforehand, as failing to get this sorted before your departure date can add a huge amount of stress. Thankfully, parking can now be organized online at various airports, allowing you to easily sort out Gatwick, Beijing, Dubai and Newark liberty airport parking, as well as other popular destinations well before your flight, giving you one less thing to worry about.

Fills the Days Up
Kids on holiday act up when they're bored, so make sure you keep them entertained by filling the days up. This means going to the beach, amusement parks, restaurants, waterparks – whatever is nearby! This will also help them drop off quickly in the evening, so you can enjoy a few relaxing moments to yourself as the sun goes down.

Take Books and Movies
For the moments where you don't have the energy to go out, make sure you pack activities for the kids. Books and films are a great way to keep them occupied for a while. This way, if you need a quick nap in the afternoon, you'll be able to stick a 90-minute movie on for them. Thankfully, kindles and streaming now mean you don't have to increase your luggage to bring along these items.

Choose Your Accommodation Wisely
If you're going to have little ones running around the place, then you should look out for family-friendly hotels. You don't want to take your kids to a couple's retreat! Find places that have activities for kids within the hotel so you don't always have to travel to entertain them. A pool always helps, too.

Include a Rest Day (or Two)
While you should aim to keep your kids entertained, you should also include a rest day. Schedule it for the middle of your vacation, and don't plan anything for the whole day. Spend time napping, watching films, and don't leave your accommodation unless you want to go grab an ice cream. It's a great way for everyone to rejuvenate, so you're prepared for the next adventure the following day.

Always Have Snacks
Kids get grumpy when they're hungry, so you must always carry snacks. In the car, by the pool, while perusing shops – always have snacks! It'll keep the hunger away and ensure that they don't play up because of hunger. Even if you think they've eaten plenty that day, have snacks on you! Also, don't forget the water, as you'll all need to stay hydrated, too.

Accept Altered Plans
When it comes to traveling with kids, things won't go according to plan. No matter how perfect your plans are, accept that you will need to alter them now and again. Your child may get sick, throw a tantrum, or just simply need a day of rest. Don't let this get to you, and make sure your child knows they won't be forced to have fun.

Bring a Comfort Item
Your child might experience homesickness while away, and one of the ways to make them feel better is to give them a comfort item from home. This could be a photograph, a teddy, or an old toy they've had since birth. Whatever it is, make sure it's something that'll help them feel at home when they're feeling homesick.

Remember Sun Protection
If you're going to a sunny location, then you must protect yourself and your family from the sun. This means plenty of sunscreen layers, hats, shades, and long-sleeve clothing. If you're out in the middle of the day, then try to get inside somewhere while the sun is at its highest. Sunburn and sunstroke are both terrible things to deal with, especially on holiday, so be mindful about the rays.

Give Your Older Kids a Phone
If your kids are a little older, then consider giving them a phone. It doesn't have to be fancy, just one that can call or text you in case of an emergency. Many kids get lost while on vacation, so you want to take extra precautions, even if your eyes are always on them.

Teach Basic Phrases
While entering a foreign country, it shows respect if you try to learn their language. Get your kids involved by teaching them a couple of phrases. Not only will it be delightfully cute when having dinner out, but it will also teach them something they're likely to never forget. You don't have to go overboard – a simple 'hello,' 'goodbye,' and 'how are you?' is enough for them to feel included in the conversation.

Leave Plenty of Time for Everything
There will always be something new popping up, like needing to tie shoelaces or going back to the hotel for something forgotten, so you must leave plenty of time for each activity. If you think it'll take three hours to head to the beach and enjoy lunch, then allow four hours instead. By doing this, you will minimize many of the stresses that come with a vacation.

Enjoy the Time Away!
Most of all, make sure you and your family enjoy the time away from home. While there will be stressful moments, the fun should outweigh them, so make the most of the special time together. Go on walks, soak up the culture, and do as many new activities as you can. When your kids are older, they'll look back at this time with fond nostalgia, so give them memories to last a lifetime.