The IDAPT universal power charger sets out to provide the convenience of one power charging station that does it all. Imagine being able to plug in four devices simply on a nice organized pad without needing four separate brick chargers hogging all the outlet or power strip space. The IDAPT i4 does that for four devices at a time, but, as with many all-in-one ideas, there are trade-offs.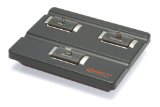 The IDAPT itself is a nicely designed square that comes in black, red, white, blue, pink and lime green. It comes with six chargers covering major formats, some of which are likely to be useless to the individual user. Mine came with adaptors for Sony Erickson, Samsung, and Nokia phones, as well as plugs for an iPhone/iPad, mini and micro USB. Many people will have one of the three phones, but likely not use at least a few of the included adaptors.
Power tip adaptors for the IDAPT, compatible to over 4000 devices, are available on Amazon for about $10 each.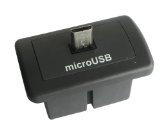 The adaptor is simple to plug in and out of the IDAPT with a simple click. In testing, however, with our point and shoot camera, a Panasonic LUMIX DMC-FX9,, the power port is set up in a way that the mini-USB adaptor won't fit. Another Sony camera had a unique power socket that would have required ordering another adaptor.
We like the concept of a dock to organize all of our gear and cables, where gadgets sit charging peacefully until they are used, and precious wall sockets aren't monopolized by clumsy power bricks. The IDAPT is a good, clean solution to this, but our advice to get maximum value is to check whether your devices are covered by those already in the starter set of six adaptors. Otherwise, the MSRP will be increased $10 for each additional plug you'll need.
The IDAPT 4 is $59.99 on Amazon.
Product specs
Specification
AC Input: 85-240 VAC – 0.2A; 50/60 Hz worldwide compatible
4 independent chargers with self-regulating power supply
DC Output: Up to 13 W
Cord length: 1,6 m
Dimensions: 169 x 135 x 32 mm
Weight: 300 g
Features
SIMULTANEOUS – Charge up to 4 devices at the same time
ECOLOGICAL – LEDS indicate the charging status of your device. Save energy and switch off IDAPT when not in use
FUTURE PROOF – IDAPT is commited to constantly update the range of adapter tips as new devices are launched.
UNIVERSAL – Charge all your electronic devices with complete compatibility.
SAFE & ERGONOMIC – The articulated tips make IDAPT a sturdy adaptable product for everyday use
EASY AND SIMPLE – Simple connection and disconnection of electronic devices.