Here are four distinctly different headphones, as opposed to ear plugs or buds, for holiday gifts. They come in a variety of price levels and serve different functions.
1. For little kids, consider the Griffin GB10027 MyPhones Headphones ($39.99 list). They are perfect for kids and unaware teens because the volume can't exceed 85 decibels—the highest level recommended by many auditory health organizations.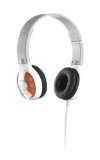 2. For more fashion-conscious teens, the Wicked Reverb headphones look hot, and deliver good sound. And, at $20 (Amazon) they are imminently affordable. These headphones have enhanced bass, and include a 3.5mm and 6.5mm jack for use with iPod or phone (no mic though) and better stereo equipment.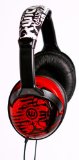 3. When I tried the Frends Alli headphones while listening to music, I could hear a baby crying. I found this really annoying but these headphones don't completely cover your ears. Turns out, it was a baby crying that I had never heard on a favorite piece of music. While these headphones don't cover the ear completely and can let in outside noise, don't be surprised if the train you hear bearing down on you is actually on the musical track rather than a neighboring train track. These headphones also have two great additional features. They have a mic so you can use them with your phone or other inputdevice. And, they have a fabric cord, which miraculously does not tangle and stick like most headphone cords. For $35, you can not go wrong with these.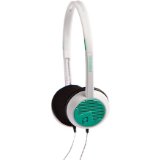 4. Finally, we love our Crossfade LP headphones. They also have a fabric cord and an second cord that includes microphone/call/music button if you want to use them with your iPhone (3GS and newer) or Blackberry. As the more sophisticated phones that they are, they also have a 6.3mm and 3.5mm adapters for different size headphone jacks. These are more expensive at $199, but are high quality headphones with superior sound driven by HD drivers and gold-plated jacks. For this price too, you get a very cool, black "exoskeleton" back case with a red lining. These make a fine gift, but I'm happy to say mine are already in service and I don't have to to wait until Christmas to disappear into their sweet sound.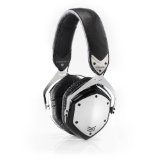 It's amazing how prices have fallen and the quality that is available even at lower spending levels for decent headphones for everyone this holiday season.
GreatDad.com Review Policy: The featured products for this review was provided to us, at no cost, by the manufacturer or representing PR agency for the sole purpose of product testing. We do not accept monetary compensation for reviewing or writing about products. We only review products that we have personally tested and used in our own homes, and all opinions expressed are our own.