Rated: PG for thematic elements including bullying, some peril, and mild language.
Starring: Josh Hutcherson, AnnaSophia Robb
Directed by: Gabor Csupo
Age Groups: 8 – 11 years old
Recommended for: Dads and kids

Bridge to Terabithia is a story of a poor 10-year old boy (Jesse Aarons) who wants to be the fastest boy in his class at school. To his surprise, the new girl (Leslie Burke) who moves in next door to him beats him out fair and square and wins the race.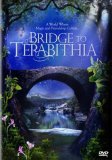 Soon however, Jesse (played by Josh Hutcherson) and Leslie (Anna Sophia Robb) soon begin a friendship, and create a magical kingdom in the forest, where the two of them reign together as king and queen.