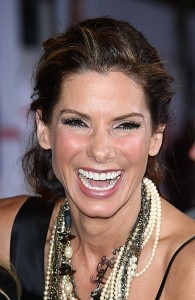 Rating: PG-13
Genre:Comedy
Release Date: September 4, 2009
Running Time: 99 minutes
Child-friendly? All About Steve is a romantic comedy that brings together Sandra Bullock (who has become a prominent figure in this genre) and Bradley Cooper, who was featured in this summer's R-rated hit The Hangover. This film is geared to teenagers with its theme of a girl essentially stalking a guy she has one date with. There is also some sexual situations as well as conversations featured in the film. This makes the movie appropriate for a crowd aged 14 and up.
In real life, female stalkers probably don't look like Sandra Bullock and cameramen may not have a smile as engaging as Bradley Cooper's. Yet, for All About Steve, the audience is asked to forgo these notions and enjoy the romantic comedy ride.
Bullock plays Mary, who is employed as cruciverbalist (a person who designs crossword puzzles) for a Sacramento, California, newspaper. She also lives with her parents and has trouble socializing. However, she is set up on a blind date and meets Bradley Cooper's Steve, a traveling news cameraman.
Mary takes an immediate liking to him and, after a casual remark from Steve, decides to follow him around the country, giving Steve a one-person fan club.
Much of the comedy comes from the borderline-stalking situation as does Mary's eccentric behavior. However, there are some sexual situations as well as conversations, so parents should be aware.
It may also be a good idea for parents to talk to their teenagers about stalking and why it can be a bad idea.