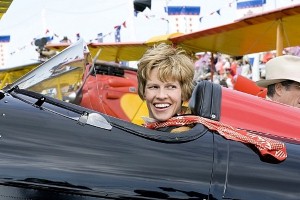 Rating: PG
Genre:Drama, Biography
Release Date: October 23, 2009
Running Time: 111 minutes
Child-friendly? Amelia is the story of legendary female pilot Amelia Earhart and her quest to be the first woman to fly around the world. The film depicts a positive role model for pre-teen girls although some of the content is mildly sexual in nature and deals with issues like fidelity in the character's tumultuous personal life. It also contains some black and white footage of a plane crash that although not serious could be upsetting for younger children. These factors make the film appropriate for children over the age of 11.
Amelia chronicles the pilot's fateful 1937 journey around the world and the events leading up to it. Early in her flying career, Earhart meets and later marries publisher George Putnam who helps to make her a worldwide celebrity. As her career soars, she begins an affair with long-time friend and fellow pilot Gene Vidal.
Although Earhart and her team know her solo journey around the world is extremely risky and dangerous, they know it will be one of the most talked about journeys of all-time, despite the outcome.
The movie focuses on Earhart's rise to fame, her personal life and her love of flying. The film portrays the pilot as a fearless adventurer who is bold and larger-than-life.
The cast includes Oscar-winning actress Hilary Swank, who plays Amelia Earhart, Richard Gere, who plays her husband, and Ewan MacGregor, who plays her friend and lover.
Parents should know that the movie shows smoking, which was quite normal in the period the movie depicts, and drinking. Some moderate language is used as well.
Although Earhart is a flawed character, parents should know that the film does have some positive messages, including staying true to oneself and following your dreams.