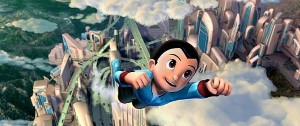 Rating: PG
Genre: Animated
Release Date: October 23, 2009
Running Time: 94 minutes
Child-friendly?Astro Boy is an animated sci-fi adventure set in the futuristic Metro City. It's about the adventures of a little boy with superhero-like powers including super strength, x-ray vision, the ability to fly and unbelievable speed. Astro Boy will most likely appeal to young boys and adults interested in action heros and science fiction adventures. It is rated PG for some mild language as well as cartoon-superhero violence. It is recommended for children ages 7 and up.
Astro Boy is about a young robot created by a brilliant scientist who makes him to fill the void left by his own son's death. When he is unable to fulfill his father's expectations, Astro Boy embarks on a journey in search of acceptance. Along the way he learns the joys and emotions of being human, and gains the strength to embrace his destiny. When he discovers his friends and family are in danger, he returns to Metro City to save them and discover what it really means to be a hero.
The movie is voiced by a team of well-known, award-winning actors including Nicholas Cage, Donald Sutherland, Charlize Theron, Samuel L. Jackson, Nathan Lane and Eugene Levy.
Well-known in Japan, there have been several U.S. cartoons and comic books based on the Astro Boy hero. Whether or not you know of Astro Boy, you may be impressed at the movie's animation.
FilmJabber.com calls Astro Boy "a thrilling tale of a true hero full of action, adventure, humor and heart."
If you like the action hero genre, this movie promises to be a good, family-friendly adventure to enjoy with your children.