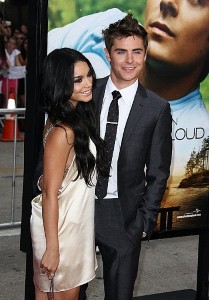 Rating: PG-13
Genre: Romance/Fantasy/Drama
Release Date: July 30, 2010
Running Time: 1 hour 39 minutes
Remember when Ray Liotta was cool? The suave actor, who is perhaps best known for playing mobster-turned-government witness Henry Hill in Goodfellas, always seemed to dish out the perfect combination of badass and brilliance. You almost hated the guy for being so damn charming, yet you couldn't help but wanna offer him a Heineken and ask about all the women he's had.
Twenty years after the iconic Goodfellas wowed audiences, Liotta is paying the rent with Charlie St. Cloud, a film that stars High School Musical pretty-boy Zac Efron. Yes, you heard that right. Take a deep breath and make sure to hit the popcorn stand – this is a rough one.
The film revolves around Charlie St. Cloud (Efron), a kid living in a seaside resort with his mom (Kim Bassinger, literally on the screen for two minutes) and his little brother, Sam (Charlie Tahan). One night, Sam dies in a horrible accident and Charlie is left to pick up the pieces. After seeing visions of his dead brother, the sailing pro vows to never leave the island.
Have you turned into a big pile of mush yet? No worries – your teenage daughters will do the squealing for you. Naturally, when Charlie meets Tess (Amanda Crew), and the two embark on a romantic escapade with one another, Efron takes it upon himself to sport his pecs.
And that's where things turn strange. A cheesy inspirational film with a splash of romance in it, Charlie St. Cloud actually wants to be more. Would you believe the story crosses over into the supernatural? This happens when Tess goes on a sailing voyage and, after losing contact with her ship, people start believing she must be dead. Is Charlie seeing her ghost, too? It's the sappiest version of The Sixth Sense if there ever was one.
All in all, the film touts itself as a fantasy-teen romance, but there are some fathers who may beg to differ. For instance, why are there so many blow job jokes in the movie? And why do so many religious themes keep rising to the story's surface?
Most importantly, why would Liotta, who plays an EMT that saves Charlie's life, agree to be in film such as this? Just like most wise guys, his reasoning is one we'll never know.
Child friendly? Charlie St. Cloud is a story about a young man named Charlie who is a competitive sailor and lives on an island with his family. One day, his younger brother, Sam, dies in a horrible accident, and Charlie is overcome with guilt and despair. When he begins to see visions of his deceased sibling, he vows to never leave the seaside town. However, when Charlie encounters and falls for a young woman, he must decide the direction his life must take. Parents should be aware that although the film seems innocent from its trailers and posters, it contains many sexual references and scenes that imply characters had sexual intercourse. Recommended for children ages 13 and above.