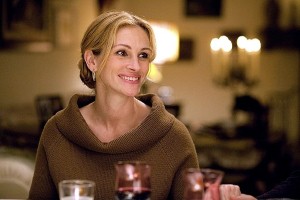 Rating: PG-13
Genre: Romance/Drama/Comedy
Release Date: August 13, 2010
Running Time: 133 minutes
Child friendly? Recommended for ages 13 and up.
Eat, Pray, Love – what is there to say about this film except Why, Why, Why? First there was the book of the same name by Elizabeth Gilbert, which led to wives across the country telling their husbands about every detail of this woman's adventures. It seems like for years we've had to listen to the story of this poor girl who got divorced and found herself again in different parts of the globe. From Italy to India to Bali, we heard it all.
Just when things started to calm down, the movie version of the non-fiction tome is here. It stars Julia Roberts. Oh-so-dreamy actors James Franco and Javier Bardem play Gilbert's love interests. Your wives are going to beg you to take them and guess what? The kids are coming too.
For the lucky dudes out there who were spared from the story, here's the drill – Liz (Roberts), for unknown reasons, leaves her husband (Billy Crudup). Although she quickly becomes involved with another man (Franco), that relationship fails, too. To make herself feel better, she decides to travel to three different countries for spiritual rejuvenation.
That's right – Gilbert goes to a trio of continents because she feels bad. Does she have kids? Nope. Has she ever changed a diaper? Probably not. Does she believe she deserves the world's pity? Absolutely.
To be fair, the woman can eat. When Liz goes to Italy and decides to forgo calorie counting, she loads up on pasta, pizza and wine. Director Ryan Murphy gives so many close up shots of her meals, that he almost has food porn on his hands. It's a mild but noteworthy distraction.
Boring and self-indulgent, this is pretty much your typical chick-flick. Still, with all the hype that will make some teenage daughters longing to see it, you have to especially hate this one. And while only a few make out scenes will keep parent-child embarrassment to a minimum, there's probably a million other things a guy could do with his time.
There isn't much else to say about Eat, Pray, Love, but there certainly are questions to be had. Why have women across the globe gone crazy for the story of such a self-obsessed person? Why is this movie two hours and 13 minutes? From one dad to another, there are three things to concentrate in order to get through it: Beer, baseball, burgers.
Child friendly? Eat, Pray Love tells the story of Liz Gilbert, a selfish woman who goes through a supposed painful divorce. After deciding the world owes her everything, she runs off to three different countries to enjoy life and become spiritually sound. Although the film doesn't contain any intense sex scenes, it does involve shots of kissing, and a quick glimpse of male rear nudity. Contains some swearing, but no worse than what kids hear at school.