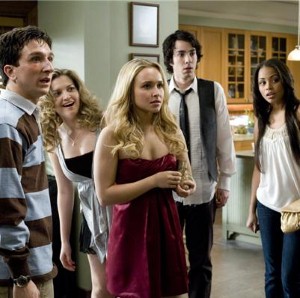 Rating: PG-13
Genre:Comedy
Release Date: July 10, 2009
Running Time: 102 minutes
Child-friendly?Though this movie is aimed at teenagers, parents should be aware that there are scenes that depict underage drinking and showed some characters driving while intoxicated. Teenagers who are fans of the television show Heroes may be drawn to this movie because of the actress Hayden Panettiere playing the title character. Language is noticeably strong for a PG-13 film with one instance of the "f" word and other swear words. The film is probably appropriate for teenagers aged 14 and up.
If parents find themselves at the sold-out end of the Harry Potter and the Half-Blood Prince line, their older children may pull them toward I Love You, Beth Cooper as way to salvage the day. However, Cooper is no Harry Potter.
The protagonist is geeky high school valedictorian Denis Cooverman (played by new comer Paul Rust) who decides to use his graduation day speech to openly declare his love for Beth Cooper (Heroes' Hayden Panettiere), a cheerleader and the most popular girl in school.
Cooverman's pronouncement catches the attention of Cooper, which leads into a party later that day filled with under-aged drinking, sexual situations and at least one of the characters driving under the influence of alcohol.
Despite a story filled with raunchy situations, there is a message about finding the real person inside and that people can't be judged just because they are smart or pretty. However, that message may be lost in the numerous scenes of high schoolers gone wild.
Fathers should also note that though it is rated PG-13, there's a lot of questionable material that includes the aforementioned sex and drinking, as well as numerous swear words through the film.