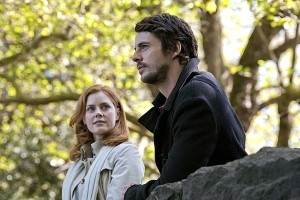 Rating: PG
Genre: Romantic Comedy
Release Date: January 8, 2010
Running Time: 100 minutes
Child-friendly?Leap Year is the story of a young woman who sets off on a trip to Ireland to surprise her boyfriend and propose. Her plans change when she meets a handsome stranger that helps her get to her final destination, however. The movie is an innocent romantic comedy that doesn't contain any inappropriate material for younger teens. Although the final outcome may be predictable for many, the PG rating and wholesome nature of the movie make it perfectly acceptable for kids aged 12 and up.
Leap Year is the story of a woman, Anna, who is tired of waiting for her boyfriend of four years to propose. After learning about an Irish tradition that allows women to pop the question on February 29th, she decides to surprise her boyfriend and take matters into her own hands.
Anna's plan is to fly to Dublin where boyfriend Jeremy is on a business trip, but fate intervenes and she's left stranded on the opposite side of the country. She enlists the help of another handsome, yet surly man, Declan, to help her reach her final destination. Along the way, her feelings are tested and she must decide whether or not to stay true to her original plan.
Leap Year stars Amy Adams as Anna, Adam Scott as Jeremy and Matthew Goode as Declan. John Lithgow also makes a cameo in this Anand Tucker-directed film.
The movie may be viewed by many as sweet and does not contain any extremely vulgar language, sex or violence. There are scenes depicting beer-drinking and drunkenness, which fathers may use to start a discussion with their children about the dangers of drinking.
Overall, while Leap Year may be predictable for some, parents and kids looking for an innocent romantic comedy will find the film lives up to its billing.