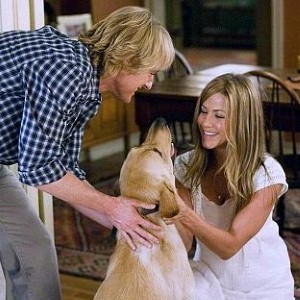 Rating: PG
Genre: Comedy
Release Date: December 25, 2008
Running Time: 123 minutes
Child-friendly? This is a case of a movie in which the marketing (showing a lovable-yet-naughty dog wreaking harmless havoc) may lead families to believe they can take even their youngest children without worrying. Some parents may be surprised by the numerous sexual references, adult themes and extremely sad ending – which could potentially upset kids. Some viewers have suggested the film should actually carry a PG-13 rating to reflect its adult content, which includes scenes dealing with reproduction and death.
Marley & Me is based on the book by the same name, written by journalist John Grogan. It tells the true story of his adoption of a lovable Labrador named Marley, which is purchased in part to distract his wife from wanting to have children.
Thereafter follow several episodes in which Marley wreaks havoc on the Grogans' house, car and social lives, causing John to remark that he owns "the world's worst dog."
Despite these problems the couple keep Marley and let him guide them through various life stages, as they finally have three kids of their own and face the trials and tribulations of parenthood.
Meanwhile, John gains journalistic fame from writing a column about his misbehaving pooch, with the support of his gruff-yet-supportive editor. In some way or another, Marley is a part of everything the family does and experiences.
Eventually, they move to Pennsylvania, which is when the movie takes a sad turn and fathers should be prepared to whip out the tissues (either for other family members or themselves).
Dog-lovers are likely to enjoy this movie – and find many scenes all too familiar. Parents may want to consider leaving their littlest ones at home, however, as the film deals with some adult topics, including death and (married) sex.