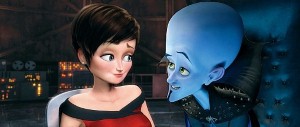 Rating: PG
Genre: Animation/Children/Family
Release Date: November 5, 2010
Running Time: 1 hour, 36 minutes
Child-friendly? Recommended for ages 5 and up.
It's hard not to root for the antihero. From Tony Soprano to Dexter Morgan, an unexpected protagonist is often more likable than your typical, law-abiding Average Joe. Let's face it – Heathcliff Huxtable may have been the best dad in America, but Al Bundy knew how to party.
So it's pretty easy not to hate on Megamind, the new animated 3D film that's voiced by about a gazillion celebrities who strangely resemble their on-screen counterpart (would you believe that Tiny Fey, who is often surprisingly pleasing to look at, has inspired quite the foxy cartoon character?). Your children are going to love it and, if you sit back with a huge tub of buttered popcorn, put your feet up on the seat in front of you and use the next hour to let mass media parent your kids, you probably will too.
The most revered buffoon in Hollywood, Will Ferrell, plays the title character, and we're all the better for it. His Megamind is an evil bad-doer, a beard-twirling brute who was blasted off to earth from an alien planet when he was just a baby. It was during this journey that he met Metro Man (Brad Pitt), a genetically-blessed tot who grows up to be a chiseled, professional Good Samaritan. Needless to say, they hate each other.
Unlike Pixar's The Incredibles, Megamind asks children to root for the bad guy. However, when the sinister scoundrel defeats his arch-rival one day, he loses his purpose in life. What's a villain to do? Surprisingly, he becomes the hero.
Entertaining and fun, Megamind provides families a great way to spend some time together. It also has three main things going for it – a great storyline, far-out graphics, and best of all, 3D glasses. If all else fails, put your shades on and tune out until the credits roll.
Child-friendly? Megamind is an animated kids film that tells the story of, naturally, Megamind, an evil villain who is trying to take down his arch-rival, Metro Man. When he apparently does just that, the ugly, blue-faced miscreant doesn't know what to do with himself. The movie contains scenes with action and some mild language. Recommended for ages 5 and up.