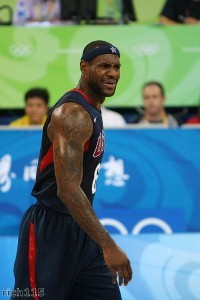 Rating: PG
Genre: Documentary
Release Date: October 2, 2009
Running Time: 105 minutes
Child-friendly?More Than a Game is a documentary that follows NBA star LeBron James and his four teammates on their journey from playing on their championship high school team to James' super-stardom in the NBA and all the trials and tribulations in between. Basketball lovers of all ages as well as fans of LeBron James in particular will be attracted to the movie, which is recommended for kids aged 10 and up.
More Than a Game follows the nine-year journey of NBA star LeBron James and his group of friends who use their bond to work together as a basketball team on the inner-city courts of Akron, Ohio. The journey of the Fab Five isn't always easy and the movie deals with the players' on and off-court problems well. Equal time is given to all of the players, so the film isn't only about James' rise to fame.
The documentary includes early home videos, photos, game footage and interviews with players Dru Joyce, Willie McGee, Sian Cotton and Romeo Travis as well as James.
Besides a few on-court fouls the movie isn't violent. The language is mostly clean, with a few "hells" and a hard-to-hear use of the "N" word. References to drugs are included, but the message is a positive one since the players avoid them and they are spoken of negatively. However, some scenes do show smoking.
This could be a movie that glamorizes one player's celebrity but it isn't. It also shows that although their sport is important, there are more significant things in life. The underlying message throughout is the importance of teamwork, dedication, friendship and family.