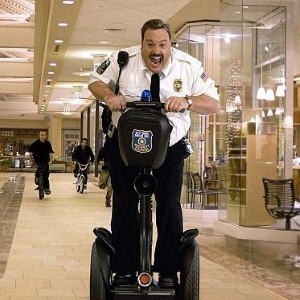 Rating: PG
Genre: Comedy
Release Date: January 16, 2008
Running Time: 97 minutes
Child friendly?: In keeping with its PG rating, there is no real sex in this movie – only innuendo – and the swearing is pretty mild. Violence is mainly of a slapstick nature and is played for laughs. There is a scene in which the main character is taken hostage, but violent intentions are only mentioned, not acted upon. Appropriate for kids aged 10 and above.
Paul Blart: Mall Cop tells the story of a single dad who has failed to become a state trooper and instead spends his days on patrol as a security guard at a suburban mall.
Meanwhile, his private life consists of spending time with his daughter and mother, who are unsuccessfully trying to spice up his social life by encouraging him to date.
However, his quiet life is disrupted when a group of thugs decide to take over the shopping center and take hostages. Clearly, it is time for Paul Blart – who is dogged by insecurities about his weight – to prove himself.
This could also be just the opportunity for our protagonist to catch the attention of the pretty mall worker he has a crush on and win her heart.
The movie is basically a vehicle for star Kevin James, formerly of The King of Queens, to use his sizeable girth for physical humor and pratfalls. By playing Paul Blart as a lovable buffoon, the audience is encouraged to root for him as a hero.
Fans of the comedian and fathers looking for family-friendly comedies with a heart are likely to enjoy this film, while kids may like the slapstick humor.