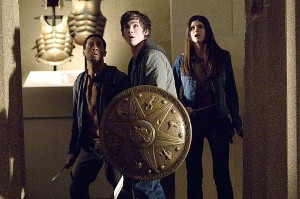 Rating: PG
Genre: Fantasy
Release Date: February 12, 2010
Running Time: 119 minutes
Child-friendly?Percy Jackson and the Olympians: The Lightning Thief is the story of a teenager who learns he is the son of the Greek mythological legend Poseidon, god of the sea. The film is based on a popular children's book but the characters are older and the movie contains a lot of violence that could be frightening for tweens who are fans of the book. Although it has a PG rating, it is not recommended for kids under age 11.
Percy Jackson and the Olympians: The Lightning Thief is the story of a trouble-prone high school student who learns he's a demigod (half human, half god) after he's attacked by a demonic beast and whisked away to a secret camp. His real father is Poseidon, god of the sea.
Percy is accused of stealing the powerful lightning bolt of the mythological god Zeus and must go to a special camp to train to use his new powers and avoid a devastating war among the gods. At the same time, he meets two other teen demigods involved in their own mythological struggles.
The trio embarks on a cross-country adventure to catch the true lightning thief, save Percy's mom who's been taken away to the underworld, and unravel a mystery more powerful than the gods themselves.
The movie is directed by Chris Columbus, who is known for directing the first two Harry Potter movies. The cast includes relatively unknown teen stars such as Logan Lerman, Brandon T. Jackson and Alexandra Daddario as well as known actors including Pierce Brosnan, Uma Thurman, Catherine Keener and Joe Pantoliano.
Fans of the book may be disappointed that the movie may be too violent and scary for their tastes. Battles with mythological creatures are gruesome and fights are extremely violent. In addition, language isn't overly vulgar but there are some mild uses of profanity.
Fathers and their older children who enjoy the fantasy genre may enjoy the movie if they can stomach the violence. Fans of the book may also appreciate the film's take on the story. And parents may use the film to discuss the ways the book and the movie differ with their kids.