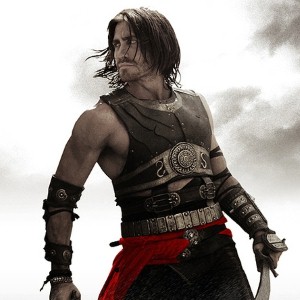 Rating: PG-13
Genre: Fantasy/Adventure
Release Date: May 28, 2010
Running Time: 103 minutes
Child-friendly?Prince of Persia: The Sands of Time is a fantasy-adventure movie based on a popular video game. It's about a prince who joins forces with a mysterious princess to protect a magical dagger that has the power to turn back the "sands of time." Fans of the video game as well as those who enjoy the epic adventure genre may find the movie appealing. Parents should know that it does contain a good deal of violence, although it's not overly gory, and is recommended for kids aged 13 and older.
Jake Gyllenhaal becomes an official A-list movie star in "Prince of Persia: The Sands of Time," an epic fantasy adventure that actually does not require the guy to wear tights.
Gyllenhaal has swashbuckled his way to the silver screen to take on the role of Dastan, a street urchin who, after a courageous act, becomes adopted by the kindhearted king. Of course, the royal has an evil brother, Nizam (Ben Kingsley). The sinister scoundrel sports a shaved head and heavy eyeliner, so the movie lets us know he's bad to the bone.
The film follows Dastan as he discovers and protects the mythical Dagger of Time. This is a dagger which – not so surprisingly – allows its owner to go back in time. Brain surgery? Not so much. Action-packed adventure that couples well with a large back of popcorn? Sure thing.
Along the way Dastan meets the beautiful Princess Tamina (Gemma Arterton, fresh from the remake of "Clash of the Titans"), with whom he shares several lingering glances and a profession of love. After Dastan's father mysteriously dies, the star-crossed pair venture across the Persian terrain and attempts to save the world.
Yes, "Prince of Persia: The Sands of Time" is a movie based on a video game, but so what? "Pirates of the Caribbean" was adapted from a Disney ride, and "He's Just Not That Into You" was inspired by a line of dialogue from an episode of "Sex and the City." As it turns out, material collected from Playstations and Xboxes can be thrilling.
Next time your child takes out their console, look carefully. There may be an Oscar winner or action movie hiding in there.