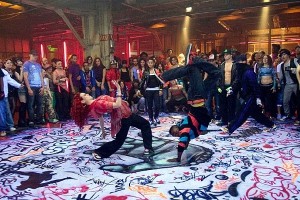 Rating: PG-13
Genre: Teen/Romance/Dance
Release Date: August 6, 2010
Running Time: 107 minutes
Going to see Step Up 3D is like taking your kids to Epcot Center and indulging in a screening of Captain EO. The story is ridiculous but the special effects keep you from going insane.
Of course, there's something to be said about the visual experience of 3D – it's entertaining. And while seeing a bunch of twenty-somethings breakdance as though they were in your lap may not be on your bucket list, it does provide some mild amusement.
To say anything else about the film, the third installment in a completely laughable franchise, might not be worth the energy. Some kids dance. They fall in love. It's about as exciting as a Disney World ride.
Of course, Michael Jackson doesn't appear clad in white in this teen flick (RIP), but believe it or not, someone does moonwalk in it. His name is Moose (Adam G. Sevani), a freshman engineering major at NYU who really just wants to get down. He's young and energetic and there's a strong chance he'll make your teenage daughters swoon.
Moose's street moves catch the attention of Luke (Rick Malambri), an accomplished dancer with a pair of high-top sneakers and a dream. The chiseled dude lives in a house with scores of other bizarre people who boogie, where they practice for an upcoming competition. Luke soon recruits Moose, who suddenly finds it hard to balance dancing, friends and school.
If this sounds laughable, well, it is. Still, there's an upside to the film, and that comes in the form of one hot chick. Her name is Natalie (Sharni Vinson), a down-and-out dancer who shimmies into Luke's heart. She gyrates to the music and is often scantily-clad, which may be just enough to keep dads entertained.
And the kids? While the film does contain some scenes with smooching and dirty dancing, it's pretty much safe to watch with them. Still, the flick may be best for girls who adore hip-hop music, boys or squealing for joy.
Step Up 3D isn't the worst film to be released so far this year, but it's hardly the best. Truth be told, it's disappointing that Malambri, who from a quick internet search was found to be a former Abercrombie & Fitch model, was obviously cast for his looks alone. The tip-off? The guy can't dance.
Child friendly? Step Up 3D tells the mind-numbing story of a bunch of kids who live together and practice dancing in an elaborate New York loft. They are led by the obviously handsome Luke (Rick Balambri), who soon recruits a young NYU student to join his crazy cast of characters. The film features eye-candy for teenage girls, and one single actress to keep dads from going off the deep end. It also contains scenes that involve kissing, and some instances of swearing. Recommended for ages 13 and up.