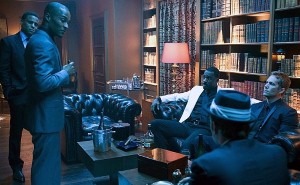 Rating: PG-13
Genre: Action/Crime/Drama
Release Date: August 27, 2010
Running Time: 107 minutes
Child-friendly? Recommended for ages 15 and up.
Action movies – they're so predictable these days. Take a couple of rap stars, hand them some guns and film them with grainy cinematography, and you have yourself a moneymaker. Toss in some respectable actors who couldn't give a damn, and you can pretty much call it a day.
The above formula is pretty much the gist of Takers, a flick starring T.I., Chris Brown, and – wouldn't you know it – even some people who have talent. They're players in a story that's pretty much a reboot of The Italian Job, minus all the Italian things, plus tons of ghetto.
The film is relatively simple – it tells the tale of a bunch of bank robbers who are masters at their game. Their gang is led by Gordon Jennings, who is played by Idris Elba, best known as Stringer Bell from the Wire. The guy shows off a ridiculous British accent in the film, and if it weren't for the fact that the dude was actually born in England, you would swear he was a poser.
Although they decide to quit, Ghost (T.I.), recently released from prison, promises them one intriguing last heist. Of course, a determined cop (Matt Dillon) is hot on their trail, and the thugs don't know what they're up against. Cue Hayden Christensen and Paul Walker, who are part of the group, whining like a bunch of pretty boys.
So what is there to say about a film that promises so much but delivers so little? You would think with such of-the-moment celebrities and a kick-ass trailer, you would have a winner on your hands. Still, the movie is slow, confusing, and features enough close-up shots to make you go insane.
Unfortunately, teens who are fans of rap music will be begging to see this flick, and it's safe to say it's mostly for T.I. (the guy, who doesn't do much except hang around, give dirty looks, and remind everyone that he's T.I., probably shouldn't quit his day job). Of course, with lines like "I'ma drink my scotch" and "I ain't budgin," you can't blame the guy for his less-than-stellar delivery.
There are some scenes involving death, murder and swearing, so parents who mostly shield their children from the horrors of the world may want to skip this one. For those who decide to indulge themselves, try to keep these details in mind: Stringer Bell is a Brit and Chris Brown is back in the public eye. Just roll with the punches and you'll be fine.
Child friendly? Takers tells the story of a bunch of skilled bank robbers who attempt to pull off one last heist. It stars Chris Brown, Idris Elba and T.I., who unfortunately is no Ice-T. Matt Dillon also plays a cop who stops at nothing to take the guys down. The movie includes violence, swearing and scenes involving sexuality, which may not be so great for younger teens to see with their dads.