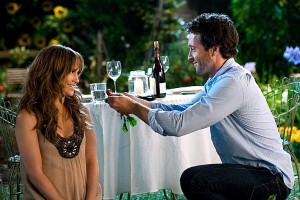 Rating: PG-13
Genre: Romantic Comedy
Release Date: April 23, 2010
Running Time: 104 minutes
Child-friendly?The Back-up Plan is a romantic comedy about a woman who sets her "back-up plan" on becoming a parent into motion by getting artificially inseminated because she hasn't met Mr. Right yet. However, the same day she gets the procedure, she meets the man she's been searching for all along. The movie contains a lot of talk about sex and pregnancy as well as scenes showing nudity, sexual situations as well as a birth that may not be appropriate for most children and tweens. It is recommended for kids aged 15 and older.
The Back-up Plan explores dating, love, marriage and family "in reverse." After years of dating, Zoe decides to take matters into her own hands and have a baby without waiting for the perfect man. However, on the very same day that she gets artificially inseminated on, she meets Stan, who she knows is "the one."
By the time she finds out she's pregnant, the couple is already in love and has to deal with the ups and downs of pregnancy, family and parenthood. As the nine-month clock ticks away, Zoe and Stan get cold feet and wonder if they've made the right decisions.
Jennifer Lopez stars as Zoe and Alex O'Loughlin plays Stan in this romantic comedy directed by TV veteran Alan Poul.
Parents should know that the movie contains frank talk about sex and pregnancy, and there are scenes containing nudity and a natural birth. The main characters also have sex, although it is not shown. There is also a good deal of vulgar language throughout including uses of the "f" word and the "s" word as well as some other exclamations and slang words.
Overall, the movie does not paint a positive picture of pregnancy, childbirth or parenthood and may not appeal to many younger movie-goers. However, parents can use it to discuss the importance of communication in relationships and the reality of dating and parenthood with their children.