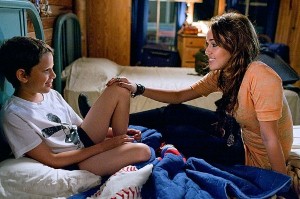 Rating: PG
Genre: Drama
Release Date: March 31, 2010
Running Time: 107 minutes
Child-friendly?The Last Song is the latest movie based on a novel by best-selling author Nicholas Sparks. It follows a teenaged girl, Ronnie, who is sent to spend the summer with her estranged father and finds love along the way. Fans of Nicholas Sparks' other love stories including The Notebook and A Walk to Remember and fans of teen star Miley Cyrus, who plays Ronnie, may find the movie appealing. However, it does explore some more mature topics and includes some passionate kissing scenes. It is recommended for kids aged 13 and older.
The Last Song is set in a small, Southern beach town. Musical prodigy, Ronnie, and her younger brother are sent to the beach to spend the summer with their estranged father. Ronnie, however, has become rebellious following her parents' divorce and would much rather be home in New York. While her father tries to reconnect with her through music, she resists since he was once her teacher and she feels like he abandoned her.
During her stay, Ronnie falls in love with local boy, Will. Their relationship helps soften Ronnie's heart and pave the way for a reconciliation with her dad, which may come a little too late.
Teen idol Miley Cyrus will most likely draw the tween and teen crowds to The Last Song. Other cast members include Greg Kinnear as her father, Kelly Preston as her mother and Liam Hemsworth as Will.
The movie does contain some passionate kissing scenes but overall it is not overly sexual. Some mildly vulgar language is also included and there is a scene that shows teenagers drinking.
Some of the topics in The Last Song may be too mature for younger children and tweens. They include divorce, an abusive relationship and death.
While this movie will most likely appeal to Miley Cyrus fans, they may be disappointed that her music isn't featured. However, parents can use the movie to discuss topics including love, family, friendships, forgiveness and how passion for a hobby can bring joy with their kids.