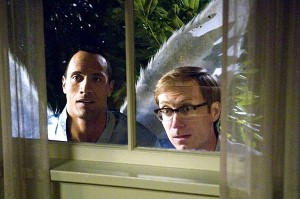 Rating: PG
Genre: Comedy
Release Date: January 22, 2010
Running Time: 85 minutes
Child-friendly?The Tooth Fairy is the story of a tough-guy hockey player who is forced to take on the duties of a real tooth fairy after being too mean one too many times. Starring Dwayne "The Rock" Johnson, the movie is a family comedy that will likely appeal to elementary school aged kids. It does contain some mild language and rude humor, making it most appropriate for children over the age of 8.
Dwayne "The Rock" Johnson plays hard-charging hockey player Derek Thompson who's known as "The Tooth Fairy" because he often knocks opponents' teeth out while playing. When he's accused of killing a youngster's dreams after telling her there is no tooth fairy, the head tooth fairy herself (Julie Andrews) sentences him to a week-long stint as a real-life tooth fairy, complete with tutu, wings and magic wand. At first, the assignment is a tough one for this tough guy, but the job soon helps him rediscover his own forgotten dreams.
In addition to Johnson, The Tooth Fairy has some well-known actors in the cast. They include Billy Crystal, Julie Andrews and Ashley Judd. It's directed by Michael Lembeck who also directed family comedy The Santa Clause 3.
The film's PG rating indicates it will contain some mild language, rude humor and real-life hockey action. Kids will probably appreciate the humor and some of the tricks of the trade this tooth fairy employs during his assignment, such as shrinking paste, invisible spray and cat-away spray.
The Tooth Fairy is sure to provide movie-goers with some family-friendly comedy relief. And, as with other family comedies that Johnson has starred in, the bad guy character learns to fix his ways and become a better person at the end of the movie.