So reports TLC who is naturally recording parties like this for a reality series. How much is your budget? Our limit is $150, which I'm sure is still outrageous to many during this recession since it's already more than some people make in a year in the developing world. But will you forego a pony for your "only 4 once" daughter out of guilt or penuriousness?
It's not guilt that prevents us from having a big ass birthday party with three clowns, an elephant and fountain pouring all the apple juice you can drink. I don't think we have everything in proportion or hold any corner on the "right way" to parent, but when it comes to birthdays, we try to set some limits. Our budget is not enough to go really wild, and the kids know that if they exceed it because they want to invite more kids (or clowns), it comes out of their bank accounts. Is that harsh? Perhaps. But it does end the discussions very quickly, with a, "If you really want a sword swallower at the party, you can have one, but the cost of the swords will be taken out of Mr. Piggy."
We also don't do goodie bags. Who invented those th ings anyway? I think it came out of a celebrity LA practice where goodie bags were created to promote stuff that only gains value when seen carried by a starlet. We had a Christmas party once where a little girl actually asked us on her way out, "Could I have my goodie bag now?" Ah, if all of life's experiences came with a goodie bag. I'm sorry, but I just treated you to an afternoon out of the house and don't think I owe you a candy bar, a pencil eraser, and keychain for the privilege.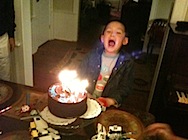 We also make our own cupcakes. That's less out of penury, since it costs more to make from scratch than to buy in a box or pre-made, but because my daughter likes to bake, and LOVES to decorate. So, why not? It's become part of the birthday-ing process.
Saturday is my son's birthday party. He actually chose to invite his best pals to meet in an open field and run around. At 7, "running around" is what he does. He just wants a two-hour recess, and who wouldn't at that age. I gotta love him for it, and I'm so glad we didn't force on him a more expensive option which would have impressed his friends' parents more than his friends. I suppose every parent would like to imagine that they always created supremely memorable events throughout their kids' lives, somehow making up for how their own was (hopefully) lacking very much drama. Kids are simpler than that though. They really just need a sunny day, a wide open space and parents who will patiently supervise and smile at them periodically, of course followed by a lot of really good cake.