The good people at Sweet Sally's send us cookies from time to time. This is just a big "thanks" to them for keeping us fat and happy while we sit at the computer all day. We listed them in top food gifts to send for father's day, and that could go for the holidays for anyone a long way from home cooking.
For Thanksgiving and beyond, they just sent us their Pumpkin Scones and a Pumpkin-cranberry strudel, both of which are very tasty and perfect to send to someone who lives far away, but are thinking about during the holidays. The scones are very good, and what you'd expect out of a scone. The strudel is also very tasty, but is a heavier dessert that's better complemented with a nice scoop of vanilla ice cream.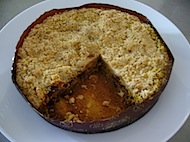 GreatDad.com Review Policy: The featured product for this review was provided to us, at no cost, by the manufacturer or representing PR agency for the sole purpose of product testing. We do not accept monetary compensation for reviewing or writing about products. We only review products that we have personally tested and used in our own homes, and all opinions expressed are our own.