We've been reading Greg Wright's new book, Daddy Dates: 4 Daughters, 1 Clueless Dad and His Quest to Win Their Hearts. Daddy Dates outlines Wright's experience and advice on how to develop real relationships with your daughters as they enter their tween and teen years. His advice: Get off the phone, take time to be with them, and let them talk."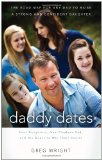 We like all books that support the idea that you need to do more than just spend time with your family; you need to really focus on who they are and what they are thinking, especially as they go through the difficult years of adolescence. Wright, a motivational speaker by day, has found a winning concept in the idea of Daddy Dates, which is a straightforward how-to book for dads who are clueless on how to approach getting to know their kids. He suggests different "dates" or outings you can go on and how to prepare for them. In classic motivational speaker mode, he even has mini-personality assessments and grids to help you analyze and talk to the girl in your life.
Dad readers will find this book a good break from more scholarly books that often say much the same things about understanding the teen psyche. As Wright admits in all his marketing materials, his advice is as good as the next guy's – he calls himself "clueless" in the subtitle – but the approach and the ideas are sound. Daddy Dates is mostly common sense put into an action-oriented plan dads can understand and execute.
Wright took a few minutes to give us some thoughts about his book and parenting philosophy.
What is the one thing you think parents should know about your new book, Daddy Dates?
I'm just an ordinary dad who is connecting with his four teenage girls in an extraordinary way.
What are your feelings about the role of the father in child development?
When it comes to daughters, the dad sets the tone that creates the expectation in which all future men will be measured.
What is the best thing dads can do in raising children?
Set a goal to be selfless. When spending time with your kids try to dial up their interests and dial out yours. Your enjoyment comes from watching you child have a crazy cool time.
What is the biggest parenting mistake dads can make in raising their children?
Thinking their only role is to make money.

Is there one practical parenting tip you'd suggest to dads?

Lean in. We need to "lean in" and pursue deeper conversation with our kids, especially if the subject makes us feel uncomfortable or we don't have the answers to their questions. If we don't lean in, then we set an expectation with our children that they can't come to talk with us about sensitive or tough subject matters.
It's been said that the greatest regret aging men have is that they didn't spend more time with their kids and paying more attention on raising kids. How do you feel about that statement?
I agree. You will never look back and say, "If only I had spent more time at work." The reality, come 5 o'clock, we clock in at our toughest and most important job, which can be a hard thing to do after a full work day. But the key to remember, it's not the amount of time you spent, it's the quality of connection that truly matters. Some of the best shared moments I've had with my daughters was over a quick cup of coffee.
Every generation worries that their kids aren't strong enough to handle the real world. Do you feel kids need to be "toughened up" by experiencing rough times?
We gain knowledge by studying what we should do and wisdom by experiencing what we actually did. That said, we should of course do our best to prepare them as much as we can, and pray that they will gain strength to get through what we could not prepare them for.
Or conversely, do you think kids need to be smothered with love to give them storehouse of good feelings with which to deal with the inevitable challenges of life in the real world?
Smothering is the universal sign for parental fear. Balance unconditional love with teaching kids the responsibility of their actions and your moving in the right direction
Has anyone inspired you to be a better father?
Many have inspired me. But hands down, Tom Lane, author of The Influence of a Father: How to Be a Role Model and a Mentor Your Children Need, is the greatest influence over my parenting style. The biggest "Tom" lesson that I have adopted is teaching my kids about their responsibility when making a mistake rather than exploding & pushing them to feel stupid for having made one.