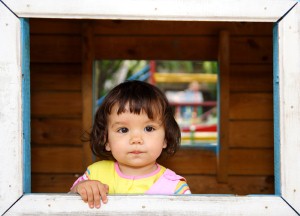 For many new parents, choosing a baby name can be a painstaking decision. While it may seem illogical to think that what your kid's name is has any bearing on how the rest of his life turns out, a growing amount of research suggests that it might.
In the past, scientists have found that boys who have more feminine names are more likely to exhibit behavioral problems, as are children who are given unique monikers (we're looking at you Gwenyth Paltrow and Chris Martin).More recently however, University of Pennsylvania researcher Uri Simonsohn said that a child's name can influence his life choices down the road.
According to LiveScience, Simonsohn believes that people may choose their workplaces based on how similar the companies name is to their own, and Simonsohn cites a previous study which found that people were more apt to donate to a hurricane if they shared a common initial with the name of the storm (for what appear to be subconscious reasons).
So while it might be appealing to name your daughter Mystery or your son Archibald,you might want to think twice before you condemn them to a life of truancy or crime.