When I was an infant and it was bath time, my mother would clear the kitchen sink, drop in the stopper, fill it with warm water and in I'd go. I still have a picture of me, sitting in the sink during bath time, with a Santa Clause beard made of soap bubbles. Unlike Santa Clause however, I don't look very jolly.
A sink full of water can do the trick, but these days there are many baby tubs available that offer more comfort and protection for you little bather. One of the best that I've seen is the Puj tub, a soft, flexible, origami-inspired baby tub that can fit in just about any sink.
The tub starts out flat, and is folded into shape in two simple steps that can be done with one hand. The folds are held in place with magnetic tabs that click together virtually on their own. Fill the tub with water and your baby is ready to be bathed while being cradled in a relaxed, reclined position against a soft, non-slip surface made of a PVC and BPA-free foam. When bath time is over, the tub can be unfolded and hung on the towel rack or door, completely out of the way. As a bonus, the flattened tub makes a great diaper changing pad.
Soft and comfortable non-slip foam that is PVC and BPA-free
Flexible, 1" thick foam conforms to fit just about any sink (but best in those that measure 16"-18" side to side, 12" – 14" front to back, and 6"-8" deep)
Simple, smart design allows tub to hang flat out of sight
Ideal for babies 0-6 months or up to 17lbs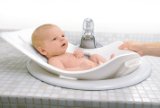 Puj Baby Bath Tub – $39.99