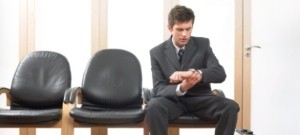 Getting a job in this economy can be difficult, even for the most qualified individuals. However, there are some things that unemployed or under-employed fathers should know when entering the job market.
The Society for Human Resource Management reports that 13 percent of companies conduct credit checks on all job applicants, and nearly half (47 percent) consider credit history for certain jobs, such as positions with financial responsibilities. Only four states currently prohibit employers from using credit checks on potential employees.
"The use of credit histories presents yet another barrier for their economic recovery – representing the proverbial practice of 'kicking someone when they are down' for millions of job seekers," National Consumer Law Center attorney Chi Chi Wu said, according to USA Today.
Experts suggest fathers know what their credit report reveals and help clear up any mistakes before giving a potential employer the go-ahead to check.
Many companies also conduct background checks on potential employees. According to the Baltimore Sun, these checks can include information from public records about liens, judgments, bankruptcies, evictions, criminal convictions, real estate holdings, driving records and insurance claims.
Again, experts say job-seeking fathers know what their check reveals by requesting a free "Full File Disclosure" report from LexisNexis.
Although social media may help dads network with friends and business contacts, it can be detrimental to a job hunt as well.
Comments and pictures posted on sites like Facebook or MySpace can often be accessed by employers and could prevent individuals from being hired.
Adjusting privacy settings and checking results that come from putting your name into a search engine such as Google may help dads ensure their online persona is employer-friendly.