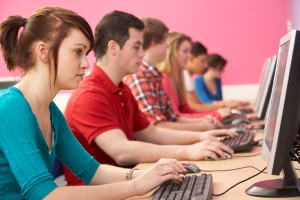 Nearly everybody is on Facebook these days – from teens to parents to elementary-school aged kids. As social media websites play an increasingly larger part in a growing number of people's lives, the impact they have cannot be over looked.
In an effort to address the effects such websites have on younger children, both positive and negative, the American Academy of Pediatrics (AAP) recently provided family doctors new guidelines as to how to address the topic. Most notably, the AAP has told pediatricians to encourage parents to have an open discussion about how Facebook factors into their kids lives.
"Some young people find the lure of social media difficult to resist, which can interfere with homework, sleep and physical activity," said Dr. Gwenn O'Keeffe, who co-wrote a study on the subject. "Parents need to understand how their child is using social media so that they can set appropriate limits."
According to a 2009 poll conducted by Common Sense Media, 22 percent of teenagers log onto their social media website of choice at least 10 times a day, with more than half checking the site at least once a day.