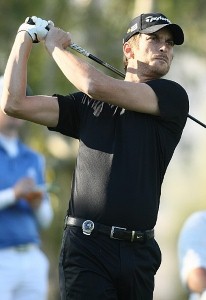 Actor Oliver Hudson admits that expecting a child the second time around is a lot less stressful.
"It's not as new, obviously, and there's a lot less fear," the actor told People Magazine. "A lot less nerves involved. We know what we're doing now. Or so we think we know what we're doing!"
The Rules of Engagment star and his wife, Erinn, are expecting their second child this spring. Big brother Wilder is 2 ½.
"We have a crazy 2 ½-year-old running around. There's so much work involved with keeping our eye on the little one out in the world," he said.
Hudson calls his son "a true gift" and says he's amazed at how well he's started to communicate.
"He's talking up a storm. His communication is just phenomenal. It's unbelievable now to just have an actual conversation with him. You can ask him a question and he will answer you directly, in a full sentence, of what it is he wants to do. I haven't gotten over that quite yet. It's sort of mind-boggling," he said.
Hudson is the son of Goldie Hawn and sister of Kate Hudson. He's best known for his starring role in CBS's Rules of Engagement , co-starring David Spade.