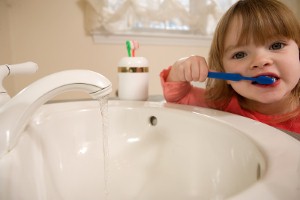 Learning how to brush their teeth is a skill that kids will use throughout their lives. However, many parents know that actually making it happen is often easier said than done as some children do not like it, don't want help doing it or simply refuse to brush all together.
"Children who have discovered they have some control in their lives and are resistive to their parent's direction and instruction can be a more challenging issue," said American Academy of Pediatric Dentistry (AAPD) president Dr. William Berlocher. "A term that I've found to be extremely useful in these situations is 'cheerful persistence.'"
Berlocher says that fathers and mothers can help teach even the most reluctant kids to brush by making the experience a positive one.
"If you go into a tooth-brushing session looking like you're going to war, more than likely it will be just that!" he said.
Starting early, during infancy or as soon as kids get teeth, is key as well.
Letting your child watch you brush and letting them help you do it can be helpful too. Taking turns brushing each other's teeth may also be a good way to get your kids to open up.
Dads can help make teeth-brushing time fun by letting their kids pick out their own toothbrush, toothpaste and cups to rinse with. Using a timer or brushing until the music to a favorite song ends can also make this chore easier to swallow.