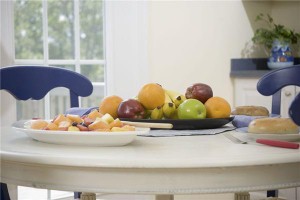 Breakfast is widely known as the most important part of the day, and that is especially true for growing children. Dads should be sure to provide their kids with nutritious breakfasts every day. However, there are a number of breakfast pitfalls that even the most well-intentioned father can fall into.
Cereal can be among the healthiest choices, but some varieties have very little nutritional value. It's important to be discerning at the grocery store and be sure to read labels. Nutritious choices such as Cheerios and Life are both good breakfasts, but there area numerous brands that are essentially candy disguised as cereal. Reese's Puffs are one of the worst offenders, Men's Health reports.
While muffins such as Banana Walnut and Cran-Orange may seem healthy, the publication reports that they tend to have large amounts of sugar and no real nutritional value. A breakfast sandwich containing bacon, egg and cheese is surprisingly more healthy and nutritious.
Instead of the above unhealthy choices, Better Homes and Gardens suggests that dads opt to serve fruit-filled pancakes or oatmeal that is accented by fruit and nuts.