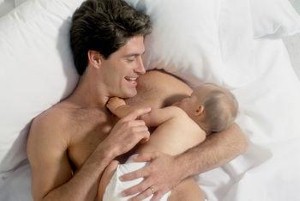 Though it is usually thought of merely as a necessary part of the day, bedtime can be a crucial part of forming a bond between father and child. Whether it be because of long work days or the mother's role in putting the kids to bed, some dads may not get the chance to do so. However, Babble.com says there are a number of reasons way dads should consider establishing a nighttime routine with their children.
Dads tend to have bigger bodies, and while this may make it difficult to find clothes that fit right, it is perfect for a young child to fall asleep on. Letting your baby fall asleep in your arms can be the perfect way to form an unspoken bond at a very young age. The publication suggests that this also creates some alone time for dads that may be difficult to find otherwise.
Another advantage afforded to dads by engaging in bedtime is that it can allow them to give moms a break. Some women may be spending all day with their kids, and deferring to dad in the p.m. hours will provide them with some much-deserved time off. Similarly, having a give-and-take with parenting will improve marriage as well.