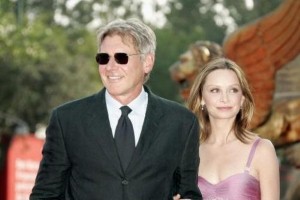 Actor Harrison Ford told Parade magazine that becoming a father again after 33 years was an unexpected joy.
"I wasn't expecting it at all. The unexpected part was certainly true. And the joy part is also true," he said.
Ford has five kids, ranging in age from 42 years old to 9 years old. He told the news provider that he's improved as he's aged.
"My first child was born when I was 25. Babies raising babies is not a pretty sight. I am much better at it now," he said.
The actor, best known for his roles in Star Wars and Indiana Jones, says he lets 9-year old son Liam, with fiancé Calista Flockhart, call the shots.
"I do whatever they want to do. We'll take a couple of hours on Sunday morning to go motorcycle riding or go for a hike. I just made a birdhouse with my son," Ford told Parade.
The three have been a family since Liam was about 6 months old and Ford began dating Flockhart. He also has a 42-year-old son, Ben, a 40-year-old son, Willard, a 22-year-old son, Malcolm and an 18-year-old daughter, Georgia, from two previous marriages.
Ford's newest movie, Extraordinary Measures, is in theaters now.