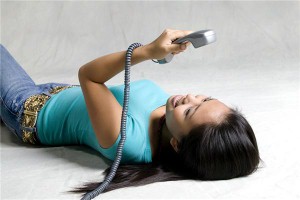 For most fathers, it's the nightmare that is slowly brewing in their home: someday, their son or daughter is going to ask them about sex. And it's going to get weird.
It's almost like a coming-of-age tradition where fathers attempt to explain in the simplest terms possible about the natural human desire to have intimate relations with another human being. It happened with you and your dad, so it's likely going to happen with you and your teenage boy or girl.
But what if there was a better way? An approach that would take out all the weirdness and replace it with an experience that was both educational and, dare we say it, fun? There may be, but it requires fathers to do something first: get comfortable talking about sex.
Some child-rearing experts have said that much of the weirdness that occurs during talks about the topic arise from a parent feeling uncomfortable about sex. Those who can't get past this may return to the cycle of awkwardness and give their children what their father gave them: a bad memory.
Instead, fathers should try to be honest and remember how confused they were about sex growing up, as well as how dangerous it can be for a teenager to roam the streets with conceptions about sex.
Podcast
These audio files are great education tools mainly because they keep everything private and have the potential to be of high quality. Fathers should look for a podcast that will fit their needs and listen to it with their teenage son or daughter, either together or separately on your respective MP3 players. Set aside some time to talk about the podcast and whatever issues come up.
Film
No, this is not a suggestion to watch porn. Instead, it's a suggestion to find a movie that touches upon various issues such as awkwardness and confusion a person may feel at the time. Fathers can start with American Pie and go from there.
Music
Pick a hip-hop song and tell your son that's not how to behave. Or pick a pop song sung by Britney Spears as a warning to your daughter of how not to grow up.