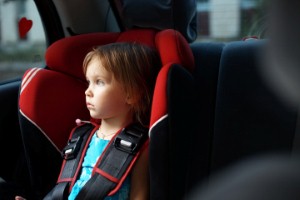 From sunburn to bee stings, the summer presents a number of well-known health risks to children. However, one danger that many parents may overlook is the potential for kids to overheat if they're left in the backseat of the car. Whether due to absent-mindedness or simple oversight, Parenting magazine reports that 450 children have died as a result of hyeprthermia since 1998.
While one might label moms and dads who leave their children in the backseat as negligent, nothing could be further from the truth. Experts say that such a momentary lapse in judgment can happen to anybody.
"Given the right scenario, I would say this can happen to anyone," memory specialist David Diamond told the publication. "It has nothing to do with how much parents love their kids. It is, to me, a tragic way of learning how the brain works."
There are a number of steps you can take to help avoid such a tragic situation. According to the magazine, one of the most effective ways to prevent the occurrence is to leave a specific reminder. For instance, placing a stuffed animal in the car seat when not in use and then moving it to the passenger seat will remove any chance of forgetting. Additionally, try to make a habit out of opening the back door every time you park – just in case.