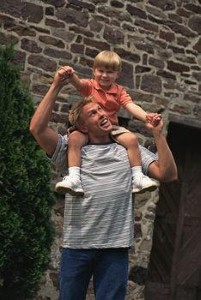 Last year's Super Bowl saw one of the most touching father and son moments in NFL history. After beating the favored Indianapolis Colts, Saints quarterback Drew Brees took his young son Beylan in his arms and held him high amidst the raining confetti. While not every father and son can share such an experience, the Super Bowl has been bringing families together for decades.
The big game is just weeks away, so dads should start thinking about their plans right now. Watching football with a child is much different than watching it with adults. The most important thing to remember is that they may not be as familiar with the game as you, so have patience. Watching the game through their eyes is crucial, and if there's a particularly important play – point it out.
Another way to get them involved in the game is to come up with small bets through its course. Make wagers on things like who will score first, who will have the best commercial and what the final score will be.
You'll need to have plenty of food for them too. Of course, the snacks are as much a part of the Super Bowl as the half time show. Nachos, chicken wings and ribs are foods that all ages can appreciate.
Though it may not seem like watching the Super Bowl with a youngster can be as fun as watching it with friends from college, it can be if you have the right attitude. Planting the seeds of football fandom while your kids are young ensures you'll have a viewing partner for years to come.