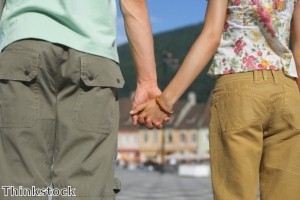 A new study reveals that Jesse James cheating on Sandra Bullock may not be so out of the ordinary, after all. Researchers say lack of sex, general unhappiness or even changes in a relationship aren't completely to blame for men straying, regardless of how beautiful his partner is. Instead, they say it all comes down to money – and which partner makes more of it.
Cornell University grad student Christin Munsch studied couples who were either married or living together for a period of six years.
She found that men who are dependent on their partner's income are five times as likely to cheat as those who make similar amounts of money, perhaps because the situation threatens the traditional belief that the man should be the primary breadwinner.
"For men, sex outside their relationship may be an attempt to compensate for feelings of inadequacy with respect to gender identity," Munsch said.
When the roles are reversed, and the woman is economically dependent on her partner, the same does not hold true.
"For women, making less money than a male partner is not threatening, it is the status quo," Munsch said. "They may make a calculated decision that cheating just isn't worth it. If they get caught, their livelihood is at risk."
Least likely to cheat, according to the findings, are men who are in relationships with women who make about 75 percent of their income.