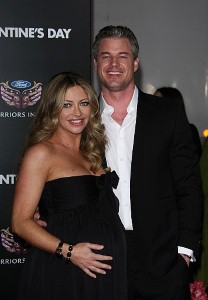 Will it be Jane Dane? Late night talk show host Jimmy Kimmel joked about potential names with the Grey's Anatomy actor and dad-to-be Eric Dane during a recent appearance.
Kimmel said he was trying to gauge whether Dane and his wife, actress Rebecca Gayheart, would choose a traditional name or what he called "one of those crazy celebrity names."
Dane revealed that he and Gayheart have already chosen a relatively traditional name for their daughter and that it's been well-received by family and friends.
"You don't want to say you don't like it because you don't want to be met with an adverse reaction, but I think this one is going to fly," Dane reassured Kimmel.
The actor also said that although the couple has the name picked out, they're refraining from using it until they actually meet their little girl.
"Rebecca wants to wait to see her before we start calling her it. You want to make sure that the name sticks," he said.
When they'll actually get to see the baby may be sooner than later as well. Dane told Kimmel that the scheduled March delivery could happen in as soon as two or three weeks.
Dane and Gayheart have been married for five years. This is their first child.