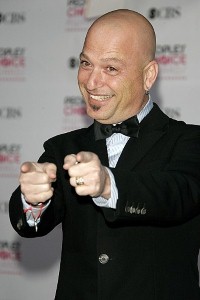 Comedian Howie Mandel says he's constantly "tortured" by his struggles with both obsessive-compulsive disorder and attention-deficit hyperactivity disorder, but that his wife and kids have helped him through the years.
"My wife and kids have had to cope throughout the years with my idiosyncrasies. It's a tightrope. All of us have gone through therapy," he told USA Today. "I don't think there's anyone alive that doesn't need coping skills when you're married. They have always loved and supported me. But even with all that support and love it's still incredibly hard, sometimes terrifying and dark."
The Deal or No Deal host said his fear of germs even made it impossible for him to take his toddler daughter into a public restroom.
"The difference between you and me is that even when I wash my hands, I can't get it out of my mind that they're not clean. I have to go back to the sink, I can't even continue with my day," he said.
Mandel recently released a new book titled Here's the Deal: Don't Touch Me. He's been married for 30 years to his wife, Terry. They have three kids – Jackie, 25, Alex, 20 and Riley, 17.
"I have had the best family – my parents and grandparents, my wife and kids, nothing but love and support and strength and intelligence," he told the newspaper.