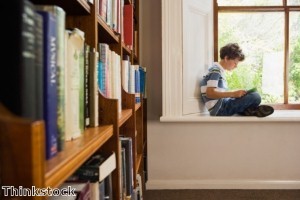 Education experts say boys continue to lag behind girls when it comes to reading achievement. Many parents say that getting their sons to read, beyond what is required for school, can be like pulling teeth.
"Some books can be pretty boring and I just don't feel like reading them," 13-year old Hunter Thompson said. "I think a lot of boys feel like that."
Luckily, writers and publishers have recognized that they need to cater to what boys want in order to get them reading. Fathers can now find more books that their sons will actually enjoy reading – on topics including sports, historical nonfiction, potty humor, bloodthirsty vampires and action-packed graphic novels, fantasy and sleuthing.
Books like "Sweet Farts," written by fourth grade teacher Ray Sabini, who writes under the name Raymond Bean, are popular among kids and their parents. The book chronicles a 9-year-old's multimillion-dollar science fair invention of tablets that can change foul-smelling gas into the culprit's scent of choice.
"Reaching those reluctant boys, it's a challenge I take very, very seriously and this is what they think is funny," Sabini said. "There's also history in there. There's science in there, the problem of bullying, but it's the humor that gets their attention."
Others, like Scholastic's "Skeleton Creek" series, use password-protected websites to alternate book text and quick fixes of video to keep boys entertained.