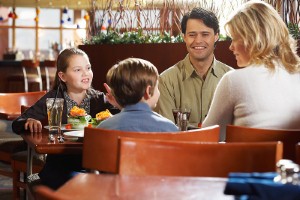 Making some adjustments to your family's daily routines can help ensure your kids avoid become obese, according to a new study.
Researchers at Temple University and Ohio State University say that preschool-aged children who live in homes that engage in three specific routines have a 40 percent lower prevalence of obesity than kids who live in homes where none of the routines are followed. The routines include eating dinner as a family, getting adequate sleep and limiting kids' weekday television viewing time.
The researchers say that in addition to helping avoid obesity, these routines may also benefit children's overall development.
"It may be more difficult for some families than others to have regular meals together, ensure their child gets enough sleep, and limit TV time," said the study's lead author, Sarah Anderson. "However, given their specific circumstances and constraints, families with young children may want to consider what it would take for them to have these routines for their child. We should support parents in their efforts to establish and maintain these household routines."
Anderson adds that parents who are concerned about their children's weight should talk to their pediatricians.