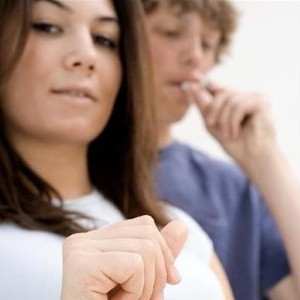 There's good news and bad news when it comes to how much your kids are likely to talk to you about their dating and relationships.
A new study published in the Journal of Adolescence found that teen girls are more likely to disclose details about their romantic lives than boys are. Among both males and females, however, the main confidant was usually their mother.
When it came to certain information, like what teen couples are doing when unsupervised or whether or not they're having sex, neither girls nor boys expressed eagerness to talk to their fathers.
The results of the study were compiled after surveying 222 adolescents in the 9th and 12th grades at a central Ohio high school. About half of them were boys and half were girls.
"It is important for the parents to provide an environment where the child can feel comfortable and trusting," said the study's co-author Christopher Daddis. "The presence of a trusting relationship between parent and teen creates a climate for healthy development of autonomy. Developing a trusting relationship is one of the most important things parents can do to maintain consistent communication."
Daddis added that dads should realize that it is natural for teens to seek more independence and to draw boundaries around what they reveal.