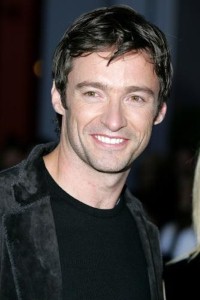 When it comes to run-ins with aggressive celebrity photographers known as paparazzi, Hugh Jackman says how he reacts depends a lot on which one of his children he's with.
The actor told Jay Leno that son Oscar, 9 ½ years old, isn't a fan of the paparazzi, but that daughter Ava, 4 ½ years old, actually hams it up for the cameras.
"Oscar's always like, 'Oh, the paparazzi, I hate the paparazzi'. And my daughter is like, 'Paparazzi!' [Strikes a pose] She loves it!" he recently revealed on The Jay Leno Show. "I'm like, 'Let's go this way.' And she's like, 'But Dad, the paparazzi are this way!'"
The actor also revealed that he and son Oscar took out some aggression on the photographers during a play session in the park following a New York City snowstorm.
"Oscar said, 'Dad, I'd just give anything to throw a snowball at the paparazzi,' and I said, 'Well, why don't you do it son.' I'm a good father, lessons all the way!"
The Australian-born actor is best known for his role as Wolverine in the X-Men films. He's been married to Deborra-Lee Furness since 1996. The family divides their time between Sydney and New York City.